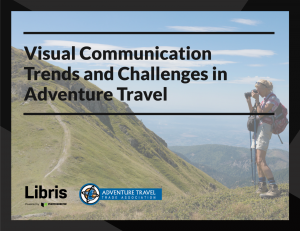 Libris by PhotoShelter, a simple and powerful digital asset management platform for visual content, and the Adventure Travel Trade Association (ATTA), today released the findings of a study on the trends and challenges with visual communication in adventure travel in a new report, Visual Communication Trends and Challenges in Adventure Travel.
"Photos and videos are core to how adventure travel organizations communicate and tell their brand's stories," said Andrew Fingerman, CEO of PhotoShelter. "As the study shows, travel brands will continue to make increasing investments in the production and procurement of visual content because of its ability to engage potential travelers. The problem is that very few organizations are prepared to manage massive amounts of visual content. As adventure travel brands capture and create more visual content, they will need to broaden their strategies behind digital asset management, including centralization, storage, searchability and accessibility."
Key areas explored in the report include:
How adventure travel organizations use visual assets in marketing and storytelling
The shifting focus on photography, illustrations, video and infographics
How adventure travel organizations source, store, organize and share visual assets
The barriers to efficiency and success in visual communication
This survey marks the launch of a partnership between Libris and the ATTA to educate adventure travel organizations on the best practices for visual communication.
"Having quick and easy access to your digital content makes smart business sense. From sharing with your partners so they can sell your product or destination to creating new revenue streams for your business – the possibilities can be quite endless," said Casey Hanisko, ATTA's VP of Marketing and Communication. "Having worked for a tour operator with over 10,000 in just photo assets, I know it is worthwhile to dive into your budget to see where you can create opportunities and save on costs; any adventure travel company's marketing team would be forever grateful."
In addition to ease of business, having a streamlined system for managing photos and videos can help your brand catch the eye of potential travellers.
"Adventure travel brands have enormous potential to engage customers with visual content," said Fingerman. "The ATTA is known in the industry for its ability to help members achieve their business goals, and we are excited to partner with them to help adventure travel organizations see higher return on their visual content investments."
About Libris
Libris enables organizations to tell their visual stories, offering a simple and powerful digital asset management platform for visual content. With 11 years in the cloud and over 285 million assets managed, our cutting-edge software helps hundreds of top universities; pro sports teams; travel brands and organizations of all sizes easily organize, collaborate, and share their photos and videos. It's a powerful media library that will centralize your team's assets and change the way you communicate visually. Libris is a business unit of PhotoShelter and is based in New York, NY. For more information please visit http://libris.photoshelter.com/.
About Adventure Travel Trade Association
Established in 1990, the Adventure Travel Trade Association (ATTA) serves over 1,100 members in 90 countries worldwide. Members predominantly include tour operators, tourism boards, specialty agents and accommodations with a vested interest in the sustainable development of adventure tourism. The ATTA delivers solutions and connections that propel members towards their business goals and the industry toward a responsible and profitable future. Through its regional AdventureConnect events and annual Adventure Travel World Summit trade conference, the ATTA excels in professional learning, networking and partnering services. With expertise in research, education, adventure travel industry news and promotion, members of the ATTA receive competitive opportunities that help establish them as leaders in adventure tourism.
For more information:
Connect with us: