Seattle, Washington – (April 23, 2020) – To address the current cash-flow crisis facing many travel businesses, threatening their existence and subsequently the livelihoods of the associated, the Adventure Travel Trade Association (ATTA) and payment solutions company Flywire have jointly released a new research report for the industry, available to download for free.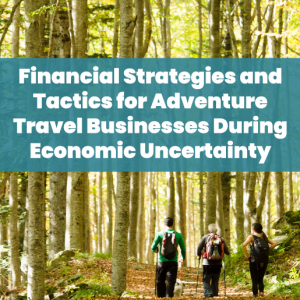 The Financial Strategies and Tactics for Adventure Travel Businesses During Economic Uncertainty report provides timely and useful information for businesses to weather the economic storm induced by the current COVID-19 pandemic, and outlines safeguards to put in place to stand resilient in the face of future crises.
"We felt it was important to consolidate information from various sources into a single, relevant document for the adventure travel industry members so they can actively address the financial challenges they are facing. The COVID-19 pandemic is a multi-faceted crisis that is both affecting lives and livelihoods across the globe. We wanted to do our small part to help mitigate risk," said Shannon Stowell, CEO, Adventure Travel Trade Association.
The World Travel and Tourism Council estimates that 50 million tourism jobs are at risk as a result of the COVID-19 pandemic, and industry-wide research paints a dire picture of financial futures. According to a recent impact monitor survey conducted by ATTA on the state of the adventure travel industry as of March 2020, organizations are seeing stark drops in business with consequences anticipated to last throughout the calendar year and 84% of respondents have a negative outlook on ongoing business prospects. With demand sharply declining (-63% in Q2 2020 vs 2019), and cancellations rising fast (+69% in Q2 2020 vs 2019), the resilience of the industry depends on the financial interventions that businesses put in place right now, and the practices they implement and carry forward to battle the next crisis.
"The impact of COVID-19 is being felt at every level of the industry—from the largest online travel agencies to individual tour operators and the local ecosystems that support them," said Colin Smyth, Senior Director of Travel at Flywire. "Flywire is committed to helping our clients not only navigate through this difficult time but also come out stronger."  
The 6-chapter report lays out ways businesses can respond to the current financial challenge so they can prepare to get back to doing what they love the most when demand returns. Drawing from the knowledge of various experts—economists, financiers, lawyers, and leading tour operators—this report features the most up-to-date information and relevant industry-backed crisis response strategies and guidance.
The report opens up with the current global outlook, narrowing in on the state of COVID-19, its impact on the economy and specifically the effects being felt throughout the adventure travel industry. From there, chapter 3 takes a more in-depth look at the various economic predictions that experts are anticipating for the coming future. Chapter 4 features strategies and tactics to help organizations counter immediate struggles, stay financially afloat and be prepared to resume normal operations as soon as travel restrictions are dropped and demand picks back up. The report wraps up with chapter 5 "Beyond COVID-19: Building An Economically Resilient Adventure Operation," which outlines the ongoing practices businesses should implement in order to be prepared and strong in the face of future crises.
ATTA and Flywire hope that this report provides a helping hand to adventure travel businesses of all shapes and sizes, on all continents and regions, who are struggling at the moment and looking for some guidance and concrete business and financial steps to take for the time being. The Financial Strategies and Tactics for Adventure Travel Businesses During Economic Uncertainty report is available to download for free.
"This is a challenging time, and we hope you will persevere through it. Our encouragement, empathy, and support are with you. Let's use this time to re-emerge and make tourism a better, more sustainable industry than it was before," said Stowell, when asked what message he'd like to share with businesses and industry members at this time of need.
###
About Flywire
Flywire is a high-growth vertical payments company trusted by organisations around the world to deliver on their customers' most important moments. Unlike other companies, Flywire is proven to solve vertical-specific payment and receivables problems for organisations that deliver high-value services. Whether in education, healthcare, travel or technology, Flywire has vertical-specific insight and technology that allows organisations to optimise the payment experience for their customers while eliminating operational challenges. To date, Flywire has processed over $16 billion in total cross-border payments volume for over 2,000 clients around the world. The company is headquartered in Boston, USA and has offices around the world.
For more information, visit www.flywire.com.
About Adventure Travel Trade Association
Established in 1990, the Adventure Travel Trade Association (ATTA) today is widely recognized as a vital leadership voice and partner for the adventure travel industry around the world
Membership + Trade
The membership and trade organization is designed to be a force for the industry and exists to drive thought leadership, industry promotion, and opportunities to network and convene globally to create trade and business health. It currently serves more than 1,300 member organizations in 100 countries worldwide. The constituency is made up of tour operators, tourism boards, specialty agents, and accommodations all sharing a vested interest in the sustainable development of adventure tourism.
Adventure 360 – Business Services + Events
Through its growing business services division, the ATTA delivers a portfolio of strategic solutions and a robust ecosystem of events around the globe. Those events include AdventureNEXT which focuses on regional promotion and partnerships; AdventureELEVATE a North American-based educational conference; and the premiere adventure travel global conference, the Adventure Travel World Summit. With specialized expertise in research, events, education, media, and promotion, the ATTA business service division is able to provide valuable solutions to a broad set of partners across many verticals of business.
Adventure Travel Conservation Fund
In 2016 the ATTA partnered with other leaders from the adventure travel industry to start the Adventure Travel Conservation Fund (ATCF), a nonprofit that provides funding, connections and an international spotlight on projects that protect the cultural and natural resources which underpin the adventure tourism industry. 100% of membership dues go towards funding these international projects. Each year members nominate projects, which are then vetted and finally voted upon by the ATCF membership.
For more information: