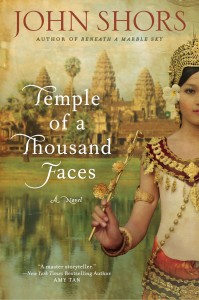 By Chris Doyle, Executive Director of Europe
Bestselling author John Shors is a trouble-maker. In his recently released, Temple of a Thousand Faces, Shors once again thrusts my imagination into exotic lands, a distant epoch and clash of civilizations, intriguing characters, compelling plots, scintillating love, and powerful mysticism all within a historically accurate framework, triggering my desire to visit yet another far away place.
With tongue in cheek, he's a harbinger of frustration. I'm still sore with Mr. Shors because his 2006 internationally bestselling Beneath a Marble Sky continues to haunt me. It's a work that utterly made me yearn to visit the Taj Mahal – I am not whole, I am sure, until I experience first hand India's UNESCO world treasure. And, while I've been impacted my whole life by non-fiction within the pages of National Geographic, Shors, I think, has found an even more effective way to light my fire for any given place on Earth. And, he's well aware of the impact of his writing, having written, How Literature Inspires Travel for AdventureTravelNews.com in March 2012.
For me, Shors is a genius storyteller in this genre. He supports my reading habit of turning words into images. He gives extraordinary places a heartbeat. When I read his works, epics films emerge within my mind's eye. In Temple of a Thousand Faces, he somehow reveals the soul of Cambodia's Angkor Wat temple and sends metaphorical blood running through its carved passages. He brings to life the inhabitants' culture as they were a thousand years ago, dissolving the "here and now" for me. When reading Shors, I am "present" precisely where he wants me: I'm in the jungle, just out of sight of the subjects, and I can hear the approach of thousands of Chams descending on the Khmers. I see elephants in battle armor. I can feel the absolutely terrifying trembling movement of earth while these enormous creatures and thousands of soldiers head to their demise…or victory. I track how the fishermen's boats are hewn from teak – I can see the carving marks on the hull. I know now what kinds of animals lurked in the jungle. What women wore during that time for jewelry. How men treated women…and each other.
Shors builds off historical records, then lends pulsing prose and extraordinary details which can only be known by someone who's lived, breathed, and experienced the very place being written about. Shors spends an inordinate amount of time in situ before he completes his works, and the reader quickly comes to understand this. Deft at turning the mundane into pivotal memory-binding glue, Shors' gift is cinematic prose. His ebbs and flows – the cadence of the novel – are fitting, well timed and deliver just the right level of anxiety…or hope. While some of the romance scenes push the envelope a bit too much for me, I'm a hopeless romantic, so I let it slide.
Whereas Angkor Wat has always held interest for me, it's officially in my, "must visits" category, which means he's causing me no end of trouble trying to decide when and how I'll get there. Get the book, your favorite beverage and pillow, and enjoy.