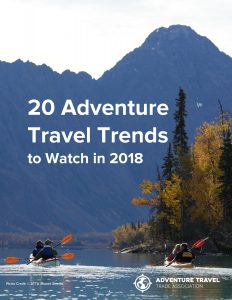 The Adventure Travel Trade Association (ATTA) has released a new report, 20 Adventure Trends to Watch In 2018. This report is a comprehensive look at the issues facing adventure travel businesses and destinations in 2018.
Now a decade after the global economic recession that hit tourism hard in 2008, tourism growth has recovered, and 2018 is shaping up to be another milestone year. It may seem paradoxical that, in an increasingly unpredictable world, where natural disasters and terrorism hit major tourism destinations and where borders are tighter and nationalist rhetoric is stronger, tourism numbers continue to grow. Yet, not only did these numbers grow, but tourism overall outpaced the growth of the global economy, contributing to economic growth, job creation, and tax revenues around the world.
"Our sector continues to grow and, along with it, the responsibilities of managing sustainable growth, protecting vulnerable communities, and safeguarding the planet's most pristine places," said Shannon Stowell, CEO of the ATTA. "The ATTA is looking to ramp up several initiatives in 2018, including continued support of the Adventure Travel Conservation Fund to support conservation organizations and AdventureEDU trainings to ensure tourism entrepreneurs on the front lines of business have the knowledge and tools they need to operate sustainably and deliver a strong conservation message to their guests. In addition, we will continue to put on events around the world to connect the industry to important resources, knowledge, and, of course, each other."
Research suggests that growth will continue, but tourism trends may fluctuate. As a result of crisis and shocks, some destinations will benefit more than others, and as democracy declines in some destinations, traveling to them may be a riskier proposition than before.
New technologies are impacting the adventure travel space. Blockchain seems to offer compelling opportunities for disintermediation, while bots and virtual reality becoming more sought after as marketing tools.
Examining traveler trends, research shows people are becoming more adventurous, seeking to be "temporary locals" when they visit new places. The tendency to adopt slow travel means visitors are staying in destinations longer, and more people are venturing out by themselves, driving an upswing in solo offerings from adventure tourism providers.
On the supply side, expect to see an increase in trail tourism, women-only itineraries, and an exploration into how to increase interest in winter products, which may help destinations smooth out visitors over the course of a year.
Finally, the report examines trends facing adventure destinations. Both overtourism and undertourism are issues in various places, and holistic planning will be required to ensure adventure tourism growth is not only sustainable but also contributes to meeting the United Nations Sustainable Development Goals.
The report examines 20 trends in five chapters:
Section A: The Big Picture
Trend 1: Adventure Tourism Continues To Grow
Trend 2: Instability Creates Shifts In Tourism Flows
Trend 3: Adventure Departures From China Increase
Trend 4: Decline In Democracy Increases Risks
Section B: Technology Trends
Trend 5: Bots Will Rule Customer Service
Trend 6: Virtual Reality Becomes An In-Demand Marketing Tool
Trend 7: Big Data Providing Answers For The Future
Trend 8: Blockchain Technology May Fuel Disintermediation In Adventure Travel
Section C: Travel Experience Trends
Trend 9: Solo Travel On The Rise
Trend 10: Being Local As The Ultimate Adventure
Trend 11: 'Slow Travel' In Increasingly Adventurous Destinations
Trend 12: Adventure Travelers Seek Wellness And Mental Health Benefits In Their Itineraries
Section D: Product Trends
Trend 13: Transformative Experiences Become A Focus Of Experience Design
Trend 14: Increase In Trail Tourism
Trend 15: Increase In Products For Female Adventure Travelers
Trend 16: Winter Products
Trend 17: Pre-Fab Pop-Ups Provide A Little Luxury In Remote Places
Section E: Destination Trends
Trend 18: Adventure Destinations Need To Prepare To Avoid The Problems Of Overtourism
Trend 19: Undertourism An Unexpected Concern
Trend 20: Holistic Approaches To Tourism Development
Click here to download the free 20 Adventure Trends to Watch in 2018 report.