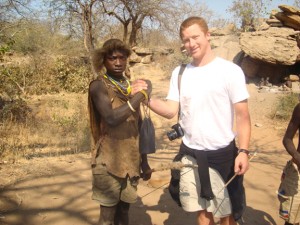 Coeur d'Alene, ID – The nine member companies of Trusted Adventures "have your back" while on vacation. In fact, they have gained an international reputation as the trusted experts in all that is related to adventure travel.
National Public Radio recently called one member to find out how they were securing the safety of their travelers in Egypt. Another member drove hundreds of miles to secure heart medication that a client had forgotten to pack. A third member helped leverage a U.S.Air Force helicopter to air-lift a guest with a dislocated hip out of the wilderness.
"Each owner-operated Trusted Adventures company brings over 10 years experience to bear and is deeply rooted in the places it conducts trips." said Brad Moss, alliance director. "If anything goes wrong, they have the expertise and resources needed to help in the most effective ways."
"They (Trusted Adventures companies) are constantly monitoring the destinations where they operate trips and do everything they can to prevent problems before they occur," said Moss. This attention means that disruptions are less likely to occur, but there are still times that weather, natural disasters, political unrest, illness, forgotten travel necessities and other situations create the need for immediate action, calling forth decades of experience and connections.
When a potential client goes to http://www.trustedadventures.com/," says Moss, "they find highly professional companies for whom assuring that a client has a secure, memorable and relaxing vacation is as important as their own bottom line."
Following are links to stories from five Trusted Adventures companies that speak to how nimble, quick and caring action can help alleviate a problem.
From ROW Adventures:
http://www.trustedadventures.com/We-Got-Your-Back-AB8#ROW
Geoff and Sally from New York were all set for our custom tour of Peru and Machu Picchu followed by a trip to the Galapagos. A week before their departure huge mudslides took out the train tracks…
It was the last night of a five-day trip. A guest dislocated her hip. It was a stormy night and the helicopter from the hospital in Great Falls wouldn't fly…
From Western River Expeditions:
http://www.trustedadventures.com/We-Got-Your-Back-AB8#Western
Our CEO received a call at midnight saying that a guest who was just about to embark down the river had forgotten his heart medication…
Recently, one of our guests missed their flight to Las Vegas prior to their seven-day Grand Canyon rafting trip. She called to let us know that she would not be there the next day. Not accepting this outcome, we…
From American Safari Cruises / InnerSeas Discoveries:
http://www.trustedadventures.com/We-Got-Your-Back-AB8#American
Guests who chartered our yacht were notables and the paparazzi got tipped off by spotters upon arrival. Our Captain used her skill and knowledge of the area to…
From Austin-Lehman Adventures:
http://www.trustedadventures.com/We-Got-Your-Back-AB8#Austin
There were demonstrations in and around the Punta Arenas Airport in Chile. We had a group scheduled to fly into the airport in a few days…
From Wildland Adventures:
http://www.trustedadventures.com/We-Got-Your-Back-AB8#Wildland
Over the New Year's holiday a family traveling to Africa was delayed by winter storms from leaving home, then delayed again in Europe, and some of their luggage didn't arrive when they did…