Triple Crown of Awards Maintains SAA's Position as Africa's Most Awarded Airline, and Lands it in Hall of Fame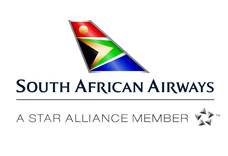 Fort Lauderdale, FL – South African Airways (SAA) was named Best Airline to Africa by three respected business travel magazines in North America, reaffirming its long-standing position as Africa's most awarded airline and preferred carrier for business travel to the continent. The triple crown of awards was bestowed in December, after readers of the magazines voted SAA as their favorite airline to Africa.
Premier Traveler Magazine's readers named South African Airways as "Best Airline to Africa," and "Best Airline in Africa," while those of Business Traveler Magazine honored SAA as the "Best Airline to Africa." The readers of Global Traveler Magazine named SAA as "Best Airline in Africa" for the 10th consecutive year, which earned South African Airways a spot in the magazine's coveted Hall of Fame. Each magazine is read by "road warriors" who travel consistently throughout the globe, and have cultivated a true understanding of what it takes to provide a comfortable and convenient travel experience.
"The readers of these three prestigious magazines are truly discriminating and difficult to impress, given their extensive travel to all corners of the globe," said Marc Cavaliere, executive vice president, North America & Alliances, for South African Airways.  "It is certainly a feather in our cap to be named their favorite airline to the African continent, and to even earn a spot in Global Traveler's Hall of Fame. We will work hard to continue to earn their loyalty and praise by offering the most convenient schedules and the most comfortable amenities from North America to the African continent."