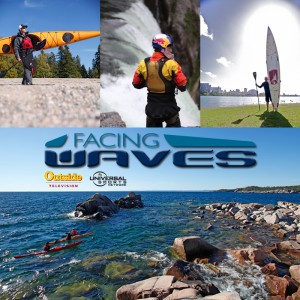 Heliconia is proud to announce that it has wrapped up production of the second season of Facing Waves – North America's only paddlesport television series.  Season 2 of Facing Waves can now be watched on both Outside Television and Universal Sports.
Facing Waves is a TV show that showcases the world's top stand up paddling, kayaking, whitewater paddling, and canoeing destinations.  Season 2 of Facing Waves took the Heliconia production team to Tahiti; Puerto Rico; Baja California Sur; New Hampshire; Washington; Veracruz, Mexico; Northern Ontario; Bryson City, North Carolina; and Ventura, California.
With the second season of Facing Waves complete, Heliconia is searching for new destinations to feature for Season 3, which will begin airing in spring, 2015. To showcase your destination in a Facing Waves episode please contact Brendan at 613.582.7154 or brendan@helipress.com.
Watch the Facing Waves trailer and learn more about the series at www.facingwaves.com