Wilderness Scotland's sea kayaking trail takes in the spectacular surroundings of the Sound of Arisaig
A Scottish sea kayaking trail sits alongside activities such as cycling by the Danube, trekking in Tibet and rafting in the Grand Canyon after being named as one of 50 "Tours of a Lifetime" by world renowned National Geographic Traveler magazine.
The 50-mile accommodation based expedition from Loch Linnhe to the Sound of Arisaig is run by Wilderness Scotland – a five-star VisitScotland Activity Provider based in Edinburgh.
The Scottish Sea Kayak Trail is the only UK entry on the list and one of only 11 based in Europe.
National Geographic, the world's leading travel magazine series, chose the 50 experiences from thousands of tours worldwide, describing the choices as "an antidote to the average".
Stevie Christie, co-director of Wilderness Scotland and a face of VisitScotland's European marketing campaign, Meet the Scots, said: "We are absolutely thrilled that our Scottish Sea Kayak Trail has been included on this prestigious list. Paddling through turquoise waters to white, sandy beaches you're surrounded by the spectacular west-coast scenery Scotland is renowned for. It's a trip as rich in wildlife as it is in history as we explore some of the locations made famous by the Jacobite Rebellion."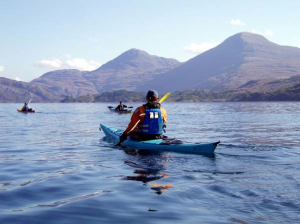 Mike Cantlay, Chairman of VisitScotland, said: "In the year of Active Scotland, it is absolutely fantastic to see a Scottish company recognised in this way. Our international marketing department often uses the Wilderness Scotland sea kayak trail as a showcase for this country's magnificent outdoors."
National Geographic's Margaret Loftus writes: "With its rugged nooks and crannies, Scotland's sparsely populated western coast is prime paddling country. This guided trip shows off the highlights of the 300-mile Scottish Sea Kayak Trail, focussing on the short section from Loch Linnhe to the beach-fringed islands of the Sound of Arisaig, teeming with seals, otters, dolphins, minke whales, and basking sharks."
To see the full list, visit www.nationalgeographic.com/travel/tours/
For more about Wilderness Scotland trips visit, www.wildernessscotland.com/kayak