The continent's largest country is fast becoming a travel giant. Brazilians now leave en masse to explore their Latin American neighbors – and the industry has extended them a very warm welcome.
In Chile, we've seen how this important market has grown, particularly in the regions of Patagonia, Valle Nevado, Lakes District and Atacama.
A Chilean service personalized in Portuguese
This development has required the team at Cascada Expediciones (owner and operator of renowned eco hotel EcoCamp Patagonia) to create and launch a website in Portuguese. The new site allows both Brazilian tour operators and independent travelers to revise Cascada's classic programs, find new tours, watch videos, call free from Brazil and enjoy personalized customer service in Portuguese.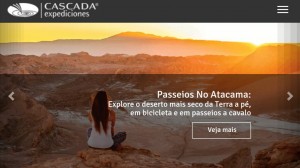 "The chance to call free from Brazil and be attended to in their own language has made our Brazilian tour operators' work much easier," says Maike Berkemeir, Head of Sales at Cascada Expediciones. "Being able to find the information they need without problems or translating saves time, while the extra support the website provides facilitates the decision-making process."
To better serve our neighbors, Maike and Marilia Fregona, our Brazilian travel consultant, recently met with 20 Brazilian tour operators in São Paolo. "These chances to get together in person are essential to talk about the work we do together, as well as to identify plans to continue attracting Brazilians to our country." says Maike.
Marilia, who provides personalized customer attention in Portuguese for Cascada and EcoCamp, explains that the regular flow of offers on airfares and their similar economy means Brazilians find traveling to Chile is extremely practical. But that's not all. "Chile's natural landscapes are very different from Brazil's, which is really attractive," she says. "Brazilians just love that on one trip, you can go visit both desert and glaciers. There's nothing comparable in Brazil!"
Brazilians traveling in Patagonia
When on vacation, Brazilians want new experiences outside the realm of traditional group tours – and at the eco-hotel in Torres del Paine, it's clear that they find what they're looking for. "They're impressed by the concept of EcoCamp," says Maike. "Brazilians, even the most adventurous among them, look for comfort while on vacation – and here they find that mix of adventure and comfort. Most of them prefer the Suite Dome or Suite Loft for families."