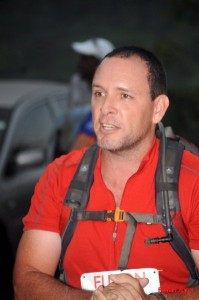 Assistant Editor's Note: Courtenay Rooks; adventurer, naturalist, conservationist, ecotourism expert, TV host and family man has long desired to develop ecotourism in Trinidad and Tobago.  This is fueled by his exploring, hiking, diving, mountain biking, birding, surfing, snorkeling, adventure racing and kayaking while studying natural history for over 35 years in far flung places like England, Dominica, the Pacific North West of North America, Mojave Desert, the Cerrado and Amazon of Brazil, Guyana's Amazon, the Savanna Grande of Venezuela and mostly Trinidad and Tobago.  During this time he gained knowledge, experience, respect and love for these environments.  He has written and contributed to several scientific papers and over 14 years research experience at the Institute of Marine Affairs.  In 1993 he started as a nature tour guide, gaining respect from his peers and clients as someone genuinely interested in the environment that has substantial knowledge on natural history and conservation matters while becoming a hardcore adventurer.  Courtenay is the driving force behind the Paria Springs Project, an ecotourism project whose vision is to be a model for ecotourism, while providing harmonious lodging and exhilarating ecotours, and conserving the environment and communities. Lately Courtenay has embarked on a new career in the television business as host of Earth Alert, which is about nature, conservation and his adventures, it airs and a 30 minute show on WINTV.  Go Wild with Courtenay Rooks is an international show about Courtenay's adventures in the Caribbean and Latin America bringing together adventure, conservation and culture. Be sure to check out his blog.
Courtenay, please look back two years, and share with me how business was faring for you prior to the economic collapse in the U.S.
In the period between 2004 and 2007, my business had been consistently growing between 15% to 30% each year.  As an indicator: we owned two mountain bikes and no kayaks for tours in 2004. By 2007, we had six kayaks and 16 mountain bikes while consistently replacing old equipment with new as all were in constant demand.  I received tours both from international tour operators and independent travelers. My clients mainly came from North America and Europe with only irregular local clients who were mostly friends who occasionally joined a group of non-locals.
What made your particular offering in Trinidad & Tobago so compelling to the international market? How did you distinguish yourself from other suppliers?
Trinidad and Tobago lie a mere 7 miles off the coast of South America – as such its natural history and geology are South American, yet we are in the Caribbean with the Caribbean's most diverse racial profile and culture.  Hence I sold Trinidad and Tobago as the perfect combination of South American adventure and nature with a Caribbean culture that invented the steel drum and calypso thus giving the Caribbean its rhythm. This combined with the small size of the islands meant that within an eight day vacation one could wake up to howler monkeys growling nearby, hike peaks, ocean kayak, mountain bike trails once used by pirates during the day, wonder at millions of bats flying millimeters from your face at twilight, and at night join a steel drum party. To top this off, food born out a very diverse and unique population is very sumptuous, delighting everyone from meat lovers to vegans.
And, when Wall Street collapsed in Fall 2008, how did that affect your operations, especially with regard to international clients?
By early 2008 I saw a leveling out and a decline in business that steadily worsened as the year drew on. The biggest hit was that the international tour operators started pulling out from my business simply because Trinidad and Tobago was not selling.  2009 was my worst year of business, with over 90% decline in international business.  I sold the bikes and kayaks as I no longer needed them.  I did not lead a single mountain biking tour that year.
To be clear, this massive decline was not solely caused by the Wall Street crash but emphasized by the very poor marketing done by the Government of Trinidad and Tobago to attract ecotourists to our islands. True ecotourism is run by small to medium businesses that have a collective marketing power to attract tourists to their product; however, we need governments to attract these tourists to the destination.  Even though I tried through ads in magazines, attendance at adventure travel shows and the Summit, all failed as I did not have the resources to create the destination awareness required.  Simply put, not enough eco-adventurers know that Trinidad and Tobago have an amazing adventure product.

Are you still feeling the effects of the economic downturn? If so, what are you experiencing? How did your year end  financially speaking, and what is forecast is for 2011 – up, down, the same?
2010 turned out to be a very poor year for foreign visitors, though at the end of the year there was a small increase giving rise to hope for some gains to be made in 2011.  This trend has continued in 2011, however it must be noted that we are still down about 80% from 2006 / 2007 levels.
I continue to work on local tours with 3 to 4 tours every month.  However it is still very difficult to predict.  For example in January I had 2 tours that were over booked, one that was canceled as no bookings were received for what is normally a popular tour, and one tour with a just above minimum level.
While I am seeing a few more independent travelers, the fact is that I am yet to get the tour operators to return. They also need the destination awareness to sell the tours, so real numbers of tourists are yet to return. The independent travelers doing my tours are those who are traveling to Trinidad to visit friends and relatives or are coming to conduct business such as attendance at a conference.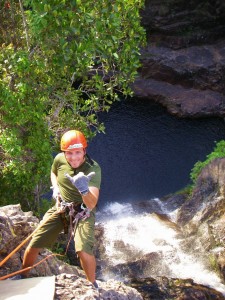 And, based on those experiences, how have you adapted? What are you doing different? And, what specifically forced you to the make the adjustments?
In 2009 I started to develop day and half day tours for locals and expatriates living in Trinidad that we have on Sundays and public holidays. I slash the price and services – I do not provide food, transport or any extra services that are standard on international tours. However I maintain the the quality and essence of the tour once on the trail.  So the information, attention to safety, interaction with clients is all the same. This has been slow to develop and my main target market is families who wish to do something different on weekends.  However I just ran my first kids' vacation adventure camp, which was very successful.  This included river adventure hikes, jumping off waterfalls, cultural experiences and much more.  I shall be repeating this every vacation.
Looking back, how might you have prepared differently in anticipation of major economic transformation?
I should have had a local product developed many years ago.  I will continue to grow the local product while redeveloping the international product, and eventually operating both side by side.
You got involved with several film/TV projects this past two years, please tell me about those.
Unfortunately for me the shows that were being developed for international audiences also suffered the effects of the recession and we could not find sponsors.  However my local shows have been on air. These shows deal with local conservation issues how they affect us and what we can do to help, while tracking my adventures locally and internationally.
How has your involvement in these film/TV projects affected your business? What benefits has this brought to you?
The local show has developed me into a sort of local version of Croc Hunter / Man vs Wild, which has helped the marketing and development of local tours.
Has the ATTA figured into your business at all? You've attended the ATTA's Adventure Travel World Summits, been an active member and stay in touch with the team regularly – how has this affected you and your operations?
The ATTA  and the Summits have figured strongly in both my business and my personal development in many ways!  At the first Summit I attended, futurist Thorton May spoke on two things that I have carried with me since:
1)  Envision your dream, work backwards to where you are, then see the path to the dream and walk there.
2) Your network will save you.
Through all the bad times, I've had a vision of a profitable sustainable business that is fun and is involved in conservation.  While I have been continually developing my network, the Summits are the major source of development of my international connections, who have never let me down.  The core of my international network has been the ATTA's staff and their close friends.  Their advice, moral support and real support has been key in my not giving up hope on my business when things were dire, and I expect they will be just as helpful at all times.
There is nothing on this planet like the ATTA family, and a genuine family is what the ATTA is – a group of
people who love and support each other – without the bickering 🙂 Each and every time I interact with the ATTA and attend the Summits, I take away something positive and actionable, I have filmed the very varied adventures I have attended at these Summits, which have been aired on my show and other local shows, thus developing my image into international adventurer.  This has figured strongly in the development of my local tours.