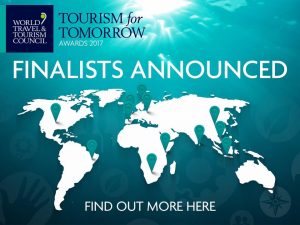 The World Travel & Tourism Council (WTTC) is pleased to announce the 15 Finalists for its 2017 Tourism for Tomorrow Awards. The 2017 Finalists cut across five continents in the following categories: Community, Destination, Environment, Innovation and People.
The WTTC Tourism for Tomorrow Awards, now in its 13th year, showcases business practices of the highest standards that balance the needs of 'people, planet and profits' within our sector.
The 2017 Awards fall within the UN International Year of Sustainable Tourism for Development, all 15 Finalists illustrate great commitment to "support a change in policies, business practices and consumer behavior towards a more sustainable tourism sector than can contribute to the Sustainable Development Goals", as the International Year calls for.
Following a rigorous 3-phase judging, which includes an onsite evaluation, Winners of the 2017 Tourism for Tomorrow Awards will be announced during the Awards Ceremony at the 17th WTTC Global Summit, taking place in Bangkok, 26 – 27 April 2017.
David Scowsill, President & CEO of WTTC said: "I am extremely pleased to once again see such inspiring business leadership amongst this year's Finalists. This year saw a 36% rise of applications, which shows not only that more and more Travel & Tourism companies are looking to operate sustainably but also an increased interest to share company best practices and thereby educate peers and governments.
As the Travel & Tourism sector continues to grow, WTTC currently estimates global Travel & Tourism to have grown by 3.1% in 2016, we have to ensure we safeguard the environment, local communities and cultural heritage, and our Awards programme calls on tourism businesses to showcase just that."
Awards Lead Judge, Graham Miller, Executive Dean, Faculty of Arts and Social Sciences at the University of Surrey, said: "The 2017 Finalists illustrate how widespread the notion of sustainable tourism has become. While sustainability used to be focused around the preservation of nature, this year, the organisation's missions are, amongst other things, centred around innovative value creation for societies, travel technology for those with accessibility needs, and empowerment of the young workforce."
The Finalists of the 2017 WTTC Tourism for Tomorrow Awards, which is Headline sponsored by AIG Travel for the second year, are:
Community Award Finalists, whose organisations are committed to sustainable tourism leadership in local community development, empowerment and cultural heritage
Cinnamon Wild Yala, Sri Lanka
G Adventures, Canada
Ol Pejeta Conservancy, Kenya
Destination Award Finalists, who show commitment to supporting and delivering sustainable tourism best practices in their destinations:
Botswana Tourism Organisation, Botswana
City of Bydgoszcz, Poland
Pallas-Yllästunturi National Park, Finland
Environment Award Finalists, whose organisations and companies achieved environmental best practice through biodiversity conservation, protection of natural habitats, addressing climate change, and green operations:
Biosphere Expeditions, UK
Caiman Ecological Refuge, Brazil
Misool, Indonesia
Innovation Award Finalists, who provided innovative solutions to overcoming the challenges faced by Travel & Tourism in implementing sustainability in practice:
NATIVE Hotels and Accessible Tourism, Spain
Soel Yachts, Netherlands
The Mapping Ocean Wealth initiative led by the Nature Conservancy, USA
People Award Finalists, who are dedicated to the development of capacity building, training and education to build a skilled tourism workforce for the future:
Desert & Delta Safaris, Botswana
STREETS International, Vietnam
The J. Willard and Alice S. Marriott Foundation's China Hospitality Education Initiative (CHEI), China
The Winner Selection Committee is chaired by Fiona Jeffery OBE, Chair of the WTTC Tourism for Tomorrow Awards and include a further 15 independent judges from within the Travel & Tourism sector.
Fiona Jeffery OBE, Tourism for Tomorrow Awards Chair, said: "Now more than ever it's important to highlight how tourism positively connects people across the planet and brings great social and economic benefits to destinations. The 2017 Tourism for Tomorrow Award Finalists demonstrate a commitment to long term vision in preference to short term gains and provide inspiring examples of responsible leadership in their businesses. The true value of the awards is the insight and learning which can be shared across the industry and I'm looking forward to hearing their stories during the WTTC Global Summit in April 2017."
Contributing members are responsible for the accuracy of content contributed to the Member News section of AdventureTravelNews.