Absolute Travel Needs Your Click to Help Save the Chimps
A viral video produced by luxury travel company, Absolute Travel and GoPro, "Pelican Learns to Fly," is believed to be the world's first pelican selfie taken on a GoPro. By clicking the GoPro link Absolute Travel will donate for chimps through their CLICK FOR CONSERVATION campaign for chimps.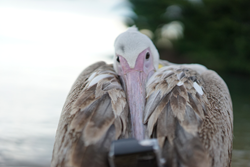 As part of luxury travel company, Absolute Travel's, green sustainability initiative, they launched CLICK FOR CONSERVATION with the world as their partners. Helping wildlife couldn't be easier than this. Since the pelican was soaring over the Mahale Mountains, one of the last places to see wild chimpanzees in their natural habitat, Absolute Travel chose to make their first CLICK FOR CONSERVATION campaign dedicated to Dr. Jane Goodall's Roots & Shoots initiative for the chimps.
"This is for the lazy people out there! How often do you get the chance to do something really meaningful without doing a thing? There's no credit card involved, no personal information, no need to even get up off the couch to do something good in the world today – except lift your finger and click on this link to help our friends and relatives – The Chimps," said Susan Kelly, Absolute Travel's Director of Global Outreach & Conservation Partnerships.
The film stars an orphan Great White Pelican, known as "Big Bird" and features an unusual bird's-eye-view of remote Lake Tanganyika, and the scenic backdrop of Greystoke Mahale, a safari lodge in Tanzania, widely known for its access to the one of the largest wild chimpanzee populations on the planet.
Brooke Garnett of Absolute Travel, a private, luxury travel company based in New York, got the unique pelican footage by sliding a GoPro mount that happened to fit perfectly onto the pelican's beak during her recent trip to Tanzania. Ms. Garnett says, "My SLR camera has been my favorite tool to share my adventures from the field for years, but the GoPro footage captured my trip in a way a picture never could. I love this pelican because he captures the main ingredients of an Absolute Travel trip. He sees a remote destination from a unique perspective, and then relaxes at one of the world's best properties at the end of the day. We travel differently"
For 25 years, multi-award-winning travel company Absolute Travel has made its mark by creating custom journeys and they took that tradition to the virtual world, by capturing aerial pelican views of one of their favorite properties in Africa. For the full backstory on Big Bird's journey and CLICK FOR CONSERVATION, go to the absolutetravel.com blog.
Contributing members are responsible for the accuracy of content contributed to the Member News section of AdventureTravelNews.