AmazonCam project monitors wildlife populations in Amazonian rainforests
Award-winning Peruvian ecotourism operator, Rainforest Expeditions, announced today the launch of: HarpyCam, the world´s first camera capturing behavioral footage of the near threatened harpy eagle. This is a new component of the Wired Amazon, a citizen science program that allows onsite and offsite community volunteers to contribute to long-term research and conservation efforts in the Tambopata National Reserve.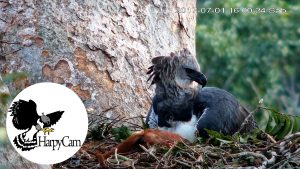 Harpycam is a collaborative effort between Rainforest Expeditions and the San Diego Zoo Global Institute. Dr. Mark Bowler, who serves as the San Diego Zoo Global Clark Endowed Postdoctoral Fellow in Population Sustainability, designed and leads the AmazonCam project. His field team includes three tropical biologists led by Wired Amazon Director, Daniel Couceiro.
The HarpyCam is set up to film the nest of a pair, named, Kee-wai and Baawaja. On June 23rd, their egg hatched, and the HarpyCam is positioned to capture the critical first year of the harpy chick's life. The footage will be shared online, with interpretation by the Wired Amazon team. This team, led by Couceiro and Bowler, is closely monitoring the behavior of this elusive raptor. Mr. Couceiro studied the behavior of this pair back in 2015 and is very excited to get new reproductive data.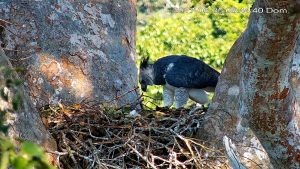 Guests who visit Refugio Amazonas during Science Season (March 1st to March 31st) get the chance to work alongside leading tropical biologists doing research at Tambopata. Throughout the month, new discoveries are made and scientists identify fauna and flora, which increases our knowledge and understanding of the Amazon rainforest.
The AmazonCam Tambopata project is part of Wired Amazon. It has been monitoring the rainforest biome for arboreal and terrestrial dwellers since 2016. The AmazonCam team has climbed hundreds of trees and trekked hundreds of kilometers in the dense Amazon over the last year and has collected tens of thousands of photos and videos from camera traps. These images are accessible through the Zooniverse platform allowing citizen scientists help with the project by categorizing photos. Volunteers earn $1 in travel credits for each classified photo, up to $300 per person, which can be redeemed at Refugio Amazonas, lodge by Rainforest Expeditions, during Science Season.
Contributing members are responsible for the accuracy of content contributed to the Member News section of AdventureTravelNews.