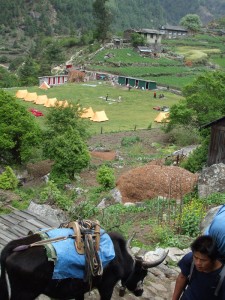 Leading adventure travel company World Expeditions is delighted to announce a major sustainable trekking initiative in the Himalaya that will ensure travelers continue to enjoy taking the paths less traveled while enjoying a comfortable and ecologically sustainable accommodation. The establishment of a series of permanent camp sites, wilderness camps and eco lodges in the Everest area of the Himalaya will allow travelers to trek away from the more crowded routes while importantly not contributing to the deforestation crisis that is currently overtaking this beautiful part of the world.
"We have always believed that camping trekking is the most sustainable way to travel in this region," says World Expeditions CEO Sue Badyari. "Tea houses and lodges commonly burn wood to provide hot water for showers and to cook, which is contributing the major issue of de-forestation. Our cooks use gas and we will be using non wood burning pot bellied stoves for heating the main dining halls," said Sue.
Feedback from World Expeditions clients consistently rates the experience they have with Sherpa's and crew that accompanies the trek is one of the trip highlights. As they make camp each night a community feeling is developed and the trekkers can form friendships which allow a great cultural insight. Camping trekking also provides employment for local people – a workforce of up to 25% more than a lodge trek provides.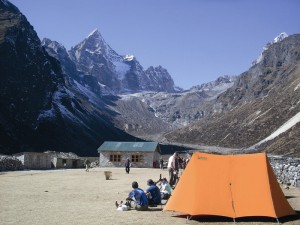 The permanent campsites are located in beautiful locations, outside the villages on secluded plots that create an atmosphere of privacy and exclusivity with stunning views of the mountains. At each campsite there will be a dining room for meals and downtime that will we be kept warm in the winder. In addition there will be an ablution block with flushing western toilets. The tents are large and allow standing inside with a basic bed and thick foam mattress.
Where national park regulations have prevented permanent campsites World Expeditions has contracted the services of a few select eco lodges that comply with responsible tourism practices – some with a private dining hall for the exclusive use of World Expeditions trekkers. While at the lodges World Expeditions cooks will still prepare all meals so that the extremely high level of hygiene and variety of choices is maintained.
All World Expeditions trips above Lukla will stay at the new campsites.
Contributing members are responsible for the accuracy of content contributed to the Member News section of AdventureTravelNews.