Highlights from the World Indigenous Tourism Forum, held October 12, 2012, in Lucerne, Switzerland.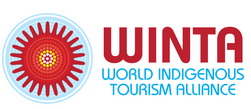 Lucerne, SWITZERLAND — The World Indigenous Tourism Alliance (WINTA) hosted their first international Forum last week on Indigenous Tourism in partnership with the Adventure Travel Trade Association (ATTA).  This event was sponsored by the Institute of Tourism at the Lucerne University of Applied Sciences and Arts immediately following the ninth annual ATTA Adventure Travel World Summit. The theme of the forum, "Partnering with Indigenous Peoples", was chosen to recognize that a truly successful business partnership is founded upon shared values and common objectives.
The recent partnership between WINTA and the ATTA embodies the spirit of such a mutually beneficial partnership. In his opening comments, Chris Doyle of the ATTA defined adventure tourism as being a combination of three key elements: a physical activity, natural landscapes, and local culture. The latter two are in fact intertwined and inseparable for Indigenous groups around the world, and it is through these traditional cultures that adventure travellers have access to an immeasurably rich, authentic experience of their natural surroundings.
Provided that it is done responsibly by the travel industry and the travelling public…
This was one of the key messages of the Forum, attended by 54 individuals representing 23 countries. The ATTA/WINTA partnership offers the unique opportunity of bringing together the global tourism community with Indigenous leaders to explore how the adventure travel sector can best work with Indigenous peoples in a positive, meaningful way. Indigenous communities and businesses have much to offer the global tourism industry, and in seeking partnerships that value more than the economic bottom line, the stage is set for a win-win-win proposition.
The first session was led by Sem Shikongo, Director of Tourism for Namibia, who set the bar rather high as he showed how, for the past two decades, his government has encouraged community-based tourism as an economic driver for his people. This has resulted in 42% of the country now being protected as national parks or community conservancies. Tourism has proven a far better return on investment than farming, with the added benefit of helping to replenish local wildlife populations, including the return of the endangered Black Rhino.
Mr. Shikongo cautioned against a more sinister aspect–that using cultural tourism for economic development is not the same as selling one's culture. He gave the example of ivory, which has special significance for traditional groups in Namibia as it is passed from generation to generation and recalls the history of each family. Sadly, this old ivory is sometimes sold to tourists for a fraction of its worth. "Now it sits in Europe somewhere, where it means nothing," lamented Mr. Shikongo. "There, it is just old ivory, and our family history is lost forever."
"Let us speak the truth today of how things are," challenged Anna Pollock, founder of Conscious Travel. "In many cases, idealistic plans have created a very different reality." She poignantly offered that it is important to ask ourselves from the outset, "Is it about the number of people coming to our places, or is it about the value they bring?"
Anna optimistically recalled the comment made by UNWTO Secretary-General Taleb Rifai that the world will surpass one billion travellers this year, representing one billion opportunities to develop and host a sustainable tourism experience. With great opportunity comes great responsibility. The travel industry is in a period of enormous turbulence and change, and as the mindset shifts from manufacturing 'products' to discovering 'places,' local communities and individuals will provide the leadership needed to be successful.
As a part of its mandate, WINTA seeks to support this new model of tourism by promoting Universal Indigenous Values founded upon Kinship, Respect, Reciprocity, Love, Empathy, and Reverence. Ben Sherman of the WINTA Leadership Council shared these values and explained them in terms of "Mitakuye Oyasin" (We are all Related). He emphasized that we must all share in the immense responsibility and duty to protect that which is most sacred. Indigenous peoples need to become legitimate business partners within the tourism transaction, not merely suppliers of tribal crafts or the charitable benefactor of the product.
The positioning statement of Aboriginal Tourism British Columbia, "Our Story, Your Experience," captures the essence of a mutually beneficial partnership within the tourism marketplace. CEO Keith Henry further demonstrated the business case for Indigenous Tourism with statistical data showing double digit growth in his region over the past five years – despite the global economic downturn. "Indigenous tourism is not about doing a different kind of business than our mainstream competitors. It's about doing it better."
Mr. Henry is further excited about the potential for Indigenous tourism to drive both economic and cultural growth in aboriginal communities. "It is more than the economics we're after", explained Mr. Henry. "Tourism for us is the opportunity to celebrate and teach our culture… something a royalty cheque from a (gas or oil) pipeline cannot give."
"To move forward, we need to understand our past", added Marsha Smoke of Pash Travel. Marsha joked about "this whole business about Christopher Columbus…" as she described her nearly 30 years of experience navigating the political, economic, social, and cultural elements of Indigenous tourism development. She provided valuable insight as both a small business owner as well as the former CEO of a national aboriginal marketing organization.
"We can share our culture, but we won't share everything", she said on the topic of creating tourism experiences. It is critical that Indigenous peoples have the autonomy and power to balance the needs of the consumer against the integrity of their community and culture. It is the only way to ensure true sustainability.
Lennart Pittja of VisitSápmi recognized as much when he exclaimed, "Today is a dream come true." He was referring to the realization of WINTA, an international Indigenous tourism organization, as well as the present Forum on Indigenous tourism issues. The Forum brought together levels of the industry, academia, and government to share their stories and ideas on an international stage.
Mr. Pittja also announced a landmark agreement with Visit Sweden that guarantees Sámi culture and traditions will henceforth be promoted responsibly and for the sake of sustainability. The agreement is rooted in Sámi cultural values, and serves to showcase Sámi culture in a respectful and authentic manner. Three years in the making, this agreement is an important step forward for the Sámi people in taking control of how their culture is portrayed to the world, as well as an example for other indigenous groups faced with similar issues around cultural appropriation in destination marketing.
As the Forum came to a close, WINTA founding member Neville Poelina was asked to share some closing thoughts from the heart. "Indigenous tourism has been around a long time", began Mr. Poelina. "… Captain Cook was the first visitor recorded in my country … but Indigenous business people is a brand new thing, and we are still floundering around a bit." Mr. Poelina reflected on his experience as a tour operator "chasing a lifestyle", as well as the Chair of the Western Australia Indigenous Tourism Operators Council. "For a long time it has felt like I have been paddling my canoe in the fog, all alone. But when I look around here today, suddenly the fog has lifted, and now I realize the canoe is much larger, and that there are many of us in it, paddling together. It warms my heart to know that I am no longer paddling alone."