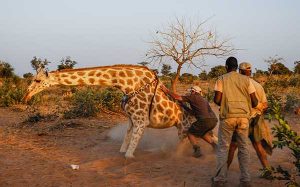 In a follow up to OUTSIDE magazine selecting Wilderness Travel as the No. 1 Outfitter in the World in 2015, AFAR magazine has granted the adventure travel company the same honors for 2017. Readers of AFAR selected Wilderness Travel as the World's Best Tour Operator as part of the magazine's first-ever Travelers' Choice Awards.
More than 10,000 votes were cast in the survey to collect readers' travel plans and favorite travel companies. The results are in the Jan/Feb 2017 issue of the magazine and included categories like Best Country, Best U.S. State & City, Best International City and Top Hotels.
AFAR noted that Wilderness Travel has been leading travelers around the world for more than 30 years from Chile to Antarctica to tribal West Africa. Travel + Leisure has also named Wilderness Travel to its list of Top Five World's Best Tour Operators for multiple years, including most recently in 2015.
"We're tremendously honored to have been selected in this prestigious competition," says Barbara Banks, director of marketing and new trip development for Wilderness Travel. "AFAR even gave us a special mention as 'The Best Company to Take You off the Grid'—that's what we love to do!"
Wilderness Travel recently announced its new tours for 2017, including 23 new trips among more than 200 itineraries that include hiking, small ship cruises and luxury train journeys.
Highlights include:
Japan: The Road to the North, traversing the path of haiku poet Basho through Japan's wild north
Contributing members are responsible for the accuracy of content contributed to the Member News section of AdventureTravelNews.