Wild Women Expeditions, the leader in women-only adventures, takes immersive travel to another level with new-for-2019 itineraries of 10 and 15 days that delve into the Berber culture of the women of Morocco.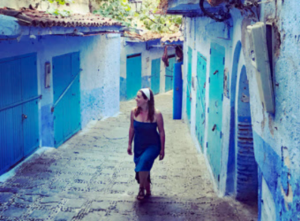 Some 30 percent of Moroccans speak Berber; the national language is Arabic. The Berber culture originated along the Nile, spreading into today's North Africa that includes Morocco. Morocco is known for being one of the most progressive states in the Middle East and North because of its support for women's rights. Despite these advancements, women's education in Morocco still lags behind and over 80% of women are illiterate.
Berber women of Morocco will help to unravel their story and culture on women-only trips across Morocco, enroute sharing such secrets as how to maneuver the labyrinth of a medina (old city), find their way into the wilderness of the Rif mountain range and learn the art of making tagine.
By casting Moroccan women as, among others, drivers and guides for these trips, Jennifer Haddow hopes that both guests and locals will be empowered. She is the owner of Wild Women Expeditions that pioneered worldwide women-only travel.
"Wild Women Expeditions gives our guests the opportunity to empower themselves amongst other women, connect with the natural world and make a positive impact in the communities we explore," says Haddow.
She notes that Berber women in Morocco, as are women in many other cultures, are too often cast as the memory keepers. "As travelers we love when they share their traditions in colorful ways. But this sharing can be a double-edged sword for women who may be left out of leadership opportunities in the tourism industry," said Haddow. "On our Morocco tour we put the stories of women in the spotlight while empowering them with opportunities to benefit from tourism and play a leading role."
Wild Women Expeditions tours in Morocco will help dull this sword and empower women by…
Working with a female Berber entrepreneur who owns the transportation company for these tours and who hires female drivers;
Engaging Berber Moroccan women as tour leaders are hiring female guides;
Supporting trek guide training for Moroccan women;
Visiting women's cooperatives where locally made items are sold;
Basing in a riad in Marrakech that employs women trained by the Amal Centre for disadvantaged women;
Conversing over a women-hosted dinner in Casablanca through Al Hidn, an association that empowers illiterate widow women in rebuilding their lives through a series of educational programs as well as providing them with financial and educational support to keep their kids in school;
Supporting the Henna Café, a social enterprise project for women in Marrakech;
Using accommodations that reflect the company's commitment to women's empowerment, such as the Kasbah Toubkhal that co-founded the Education for All program for girls' education (an additional 5% of the revenue from a group stay here is donated to this local project);
Being mindful of the environment – through women – with an overnight at an eco lodge owned by a local woman and part of an ecotourism initiative focused on empowering local women in the Riff;
Contributing members are responsible for the accuracy of content contributed to the Member News section of AdventureTravelNews.