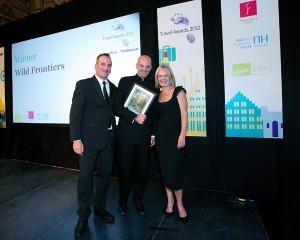 Wild Frontiers, the tour operator famed for offering some of the most fascinating, unusual and carefully executed adventures on the planet, has been awarded the prestigious Best Ethical Travel Award at the Guardian & Observer Travel Awards 2012.
With this award, the Guardian Travel editors recognise Wild Frontiers' as providers of incredible adventures to often-inaccessible places at the same time as caring deeply about the impact its tours have on the regions visited and the people they encounter.  The award gives a prestigious nod to the Wild Frontiers Foundation – the company's charitable arm set up in 2009 – which facilitates projects such as the redevelopment of Baleygon School in northern Pakistan, a small tree planting scheme in Rajasthan and a number of educational trusts. The Foundation also frequently links up with NGOs working in Wild Frontiers destinations to channel funds through to bodies such as the Hope Foundation in Kolkata and Camara Educational Organisation in Ethiopia. Clients can visit these projects if they want to, and Wild Frontiers automatically carbon offsets every client's international flight, when booked through them.
The award is also a major recognition of the ethical, responsible way in which Wild Frontiers develops every one of its tours. From the moment he set out in 2002 on the Hindu Kush Explorer tour in northern Pakistan, Wild Frontiers' founder Jonny Bealby recognised that for his clients, the best experiences come from delivering tours that rely on local amenities, staff and knowledge. As he says, "using local hotels, guesthouses and homestays, employing local drivers, cooks and guides – and paying them well so they are happy in their work – and keeping group tours to a maximum size of 12, simply leads to a better experience for our clients, which in turn makes us a more successful company. The same is as true in Rajasthan and Kashmir as it is in Argentina, Afghanistan, Cambodia or Ethiopia."
While some of Wild Frontiers' popular destinations, such as Syria, Yemen and Libya, may currently be off-limits, it – and its devoted clients – will be one of the first to jump back in to help those whose tourism businesses have been damaged or lost. It was the first back to Pakistan after 9/11, the first back into Kashmir, and the first to run commercial trips into Afghanistan, where it offers a tour of the Band-i-Amir lakes by pedalo among other things – just one example of the unique yet authentic and joyful experiences the company can provide.
Learn more about Wild Frontiers on Jonny Bealby's blog here.
Contributing members are responsible for the accuracy of content contributed to the Member News section of AdventureTravelNews.