With interest in adventure travel at an all-time high, London-based adventure tour operator Wild Frontiers is further expanding its presence in the US market with the acquisition of California-based travel company, Journeys Within.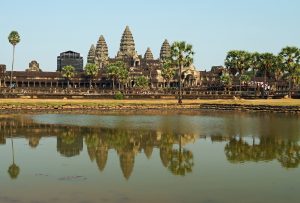 The announcement coincides with an increase in Wild Frontiers US passengers, which has continued year over year growth in the past five years and a 35% increase from 2016 to 2017. On a broader scale, outbound tourism as a whole from North America grew by 7% in 2016 (source: World Travel Monitor) as more Americans travel overseas.
The acquisition will serve to enhance and complement each company's area of expertise for continued growth as Wild Frontiers specializes in high-end, experience driven vacations with an emphasis on the environment and ethical issues while Journeys Within has a focus on South East Asia offering bespoke and authentic experiences throughout the region. Both businesses also have their own foundations offering support to projects in the countries they visit.
Wild Frontiers Founder and Managing Director Jonny Bealby believes Journeys Within is the perfect partner to help the company grow its presence in the United States. "I have been aware of Journeys Within and the exceptional reputation they have had for several years and am truly thrilled that we have managed to form this exciting partnership," says Bealby. "There are three key benefits to this deal. Firstly, we are buying a profitable market leader selling travel to a very popular part of the world. Secondly, we see their customers as ideal clients for Wild Frontiers' worldwide offering. And, thirdly, in acquiring Journeys Within we are able to gain the invaluable experience and knowledge of Journeys Within Founder and CEO, Andrea Ross, who will be retained as both US director and a brand ambassador."
Wild Frontiers, a multi-award-winning travel company that started life in Pakistan's Hindu Kush in the late 90s and has gone on to champion adventure travel experiences in such diverse locations as India, Ethiopia, Colombia and Iran, has seen rapid growth over the past three years, with revenues doubling to $11 million in 2017. With forward sales up 30% year-on-year, and this acquisition, the company forecasts growth to continue at a similar rate, projecting revenues of over $13 million in 2018.
Facts and Statistics
Recent research has shown that adventure travellers in the US are setting their sights on destinations further afield than ever before. A 2016 survey conducted by the Adventure Travel Trade Association (ATTA) showed marked differences with a similar survey they conducted in 2006. In the 2016 survey, the top five destinations that US adventure travellers planned to visit were New Zealand, Australia, South America, South Pacific and Western Europe. In contrast, North America was far and away the top choice in the 2006 study, followed by Western Europe, Australia, the Middle East, and New Zealand.
An overwhelming 95 percent of Virtuoso travel advisors report seeing an increase in sales of active, adventure and specialty travel in the last year, according to a new survey from the luxury travel network. Ninety-five percent of the advisors also said they believe the demand for this style of travel will grow in the next two to three years.
Contributing members are responsible for the accuracy of content contributed to the Member News section of AdventureTravelNews.