A new survey shows that men wear their khakis in nearly all situations—from the trail to weddings, and everything in between.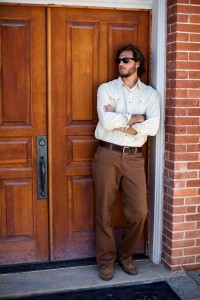 It's the one piece of apparel that "works" in almost every situation. It's the versatile "tool" that goes with you everywhere. More than 80 percent of men said that when they aren't sure what to wear, they wear khakis, according to a new survey by Mountain Khakis®, a leading mountain-inspired lifestyle apparel brand based in Jackson Hole, Wyo.
"Khakis take men everywhere they want to go, from the boat to the boardroom, from a day of hiking to a date, from yard work to a wedding," said Jen Taylor Muhr, creative director for Mountain Khakis, often referred to as "The Bet Damn Khakis." In fact, more than 60 percent of respondents said that when it comes to bottoms, khakis make them feel most confident.
Said one respondent, "You can fish, hunt, go to work, a date…all in the same pant! They can be spruced up or laid back, just by changing the shirt or shoes." Almost half reported wearing khakis to a wedding (46%) and just over 5 percent of respondents said they wore khakis to their own wedding.
More than one-quarter of respondents reported owning seven or more pairs of khakis, and more than half reported owning five or more pairs.
As for commitment to their kindred khakis, close to half of respondents (47%) said they have a pair of khakis older than their current relationship. Almost 45 percent have khakis that are five years or older, and 6 percent have khakis that span more than a decade. Amazingly, 60 percent of respondents said they would rather give up beer than their favorite pair of khakis.  Almost one in three (28%) said they would rather give up their girlfriend. However, fewer reported being willing to give up their dog (12%).
And how do the ladies feel about men in khakis?  Close to all women (96%) who responded to the survey said they like a guy in khakis. More than half of women respondents (54%) said a man in khakis is sexier than in jeans.
Contributing members are responsible for the accuracy of content contributed to the Member News section of AdventureTravelNews.