WaiverSign, Digital Waiver Signing Application, Eliminates Paper & Offers Huge Time Savings for Businesses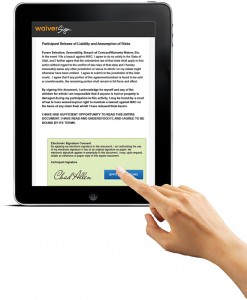 Salt Lake City, UT – After months of meeting with businesses, attorneys, insurance companies, and the National Park Service, WaiverSign, a new digital waiver system, is now available to activity providers, physical fitness instructors and facilities, equipment rental businesses and education facilities, as well as many others.
WaiverSign allows companies to easily create and execute digital liability waivers, release forms and rental agreements that participants can read and sign online in advance of arrival at an activity, by using a desktop computer, tablet or phone.  In addition, participants can sign on location using a simple kiosk.
"Companies commonly use paper liability waivers or release forms for two reasons: for liability issues and to gather marketing information," said Brandon Lake, founder of WaiverSign. "However, this often-illegible information gets stacked up in boxes for that rainy day when someone sits down to do data entry.  Not only is it time consuming to manually enter all the data (much of which can't be read), companies miss an excellent marketing opportunity by not having the data in their database immediately before and after a participant's experience."
Because participants are emailed a copy of their signed document, businesses using WaiverSign have also reported an increase in participant emails gathered as well as accuracy of those email addresses.  "An additional benefit emailing the signed waiver," says Lake, "is that it helps with the issue of a participant claiming that they never received a copy of the waiver and didn't have time to fully read the waiver before their participation." This is often a common defense with paper liability waivers.
Companies using WaiverSign's electronic waiver system have reported huge savings in time and cost when compared to their previous paper processes.  They also love the fact that waivers are securely stored and backed up for the time they use the system and that they can be retrieved within seconds.
WaiverSign calculates that companies processing 8,000 waivers a year with WaiverSign will save more than $5,000 over paper waivers in time, labor and materials.
The WaiverSign application is designed for tour and activity providers, yoga and martial arts studios, exercise facilities, tanning salons, trampoline and inflatable party and play areas, and any businesses and venue that requires liability release and/or assumption or risk documents.
Contributing members are responsible for the accuracy of content contributed to the Member News section of AdventureTravelNews.