Associated Gear, Apparel and Accessories Sales Add Additional $53 Billion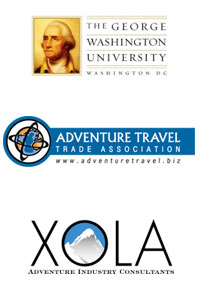 (SEATTLE) – AUGUST 3, 2010 – According to the benchmark Adventure Tourism Market Report consumer study by The George Washington University (GWU) in partnership with the Adventure Travel Trade Association (ATTA) and Xola Consulting, adventure travelers are affluent, educated, and spent more than $89 billion (excluding airfare and gear/clothing) on adventure tourism in 2009.
Conducted in late 2009, the final study surveyed people from representative countries within Latin America, North America and Europe, regions that account for 72.8% of all international tourism expenditures [1] and 68.7% of all international departures [2].  Based on UNWTO-reported departure figures, as well as the percentage of adventure trips reported by the respondents in the survey, statistical analysis was used to estimate that nearly 150 million [3] adventure trips are taken every year. The Executive Summary of the report will be available online from the ATTA in Fall, 2010.
In the same study, survey respondents also indicated they spent significantly on gear and apparel for their adventure travel pursuits. The study revealed that adventure tourism spending, when combined with the estimated $53 billion (extrapolated from the study) spent for related gear, apparel and accessories, adventure travelers spent more than $142 billion in 2009. By comparison, according to Cruise Market Watch, the 2010 cruise line world market share is estimated at $26.8 billion, while the Wine Institute reported the 2009 U.S. wine market to be a $30 billion business.
The goal of the Adventure Tourism Market report was to gain a better understanding of the size and characteristics of the adventure tourism market. Adventure travel is a sector of tourism increasingly recognized for attracting environmentally and culturally aware consumers and for its focus on responsible and sustainable development, a model designed to create economic opportunities for local people in rural and remote communities worldwide.
In the Adventure Tourism Market Report, adventure tourism primarily represents domestic or international travel featuring physical activity, nature-based travel and cultural experiences. Survey respondents were asked questions about their past three trips and intentions for future trip. Based on their answers, the study categorized their trips as: hard adventure, soft adventure or "other travel." Activities were categorized into either hard (e.g., climbing, trekking, etc.) or soft (e.g., birdwatching, safari, etc.) adventure activities or "other" tourism activities. The study revealed that 26.3% of people taking the survey took hard adventure or soft adventure holidays.
Although adventure tourism is acknowledged as a growing niche tourism segment, primary research to quantify the size and scope of this market in the U.S. or internationally has been lacking. The study focused on previous (actual) and anticipated (intended) travel behavior, as well as psychographic and demographic information. The GWU/ATTA/Xola report provides a detailed examination of adventure travelers in these three areas, including: number of travelers, spending and a snapshot of predicted future trends.
Information available in the Adventure Tourism Marketing Report is expected to aid the adventure travel industry, destinations looking to build or enhance their adventure offerings and adventure tourism operators seeking to better understand their target market. Comparing these findings with recent ATTA adventure tourism trade studies also reveals important differences between the expenditures of guided and un-guided adventure travelers.  For example, ATTA Members' customers spend approximately $3,000 per person per trip (excluding airfare and gear), roughly three times higher than the independent adventure traveler.
For destinations, tour operators and gear, apparel and accessories manufacturers and retailers, these new trade and consumer findings indicate the independent adventure traveler is an underserved, dynamic, growing and innovative market. Although many people are engaging in adventure activities while on vacation, they may not fully be aware of the value tour operators and guides, and also specialty gear brands and retailers, bring to the holiday equation.
About The International Institute of Tourism Studies at The George Washington University
The International Institute of Tourism Studies at The George Washington University is a world class educational institution that has been involved with tourism development and education for over 20 years. Situated within the School of Business, GW's Tourism Programs include several professional development programs and an on-line master of tourism program ranked in the top 25 on-line business degrees in the US. GW is known for its experience in international tourism development at the national, regional, and local levels, including tourism destination management, event management, hospitality management, conservation, parks and protected areas, and other areas. GW just completed its tenure as Chair of the World Tourism Organization Education Council, a council of the world's leading tourism educational institutions. GW is now serving on the Board of Directors for the new UNWTO Center of Excellence on Destinations, which is sponsored by Tourism Montreal, National Geographic Society, Canadian government agencies and selected government tourism authorities.
About the Adventure Travel Trade Association (ATTA)
Established in 1990, the Seattle-based ATTA (www.adventuretravel.biz) is a global membership organization representing nearly 600 member entities dedicated to unifying, networking, professionalizing, promoting and responsibly growing the adventure travel market. ATTA members include tour operators, destination marketing organizations, tourism boards, specialty travel agents, guides, accommodations, media and service providers. Host of the annual Adventure Travel World Summit executive trade conferences, the ATTA also makes possible www.adventure.travel, the traveler's hub of physical, cultural and nature-based adventure travel and guide to trusted tour operators from around the globe.
About Xola Consulting, Inc.
Xola Consulting, Inc. (www.xolaconsulting.com) is a consulting and research services firm assisting governments, tour operators, and non-profit organizations with sustainable adventure tourism destination and product development, marketing and research.   Xola specializes in strategies and tactics to support entrepreneurs and rural markets and has experience in Europe, Asia, Latin and North America.
Xola also operates Off the Radar (travelofftheradar.com), a website and newsletter providing travelers with information about the best entrepreneurial adventure operators around the world – those who provide guests with a genuine, personal experience; who believe in sustainable, environmentally sensitive travel; and who believe in incorporating the local people and traditions of the places where they operate.
Media Contact:
Chris Doyle, ATTA,  916.847.0261  [email protected]
---
[1] UNWTO. (2008).
Tourism Market Trends, Africa.
Madrid, Spain: UNWTO.
[2] ibid
[3] This study had a margin of error +/-3%