An award-winning travel company out of Ireland is scoring points with clients for encouraging them to keep an eye on their own activity levels while on vacation.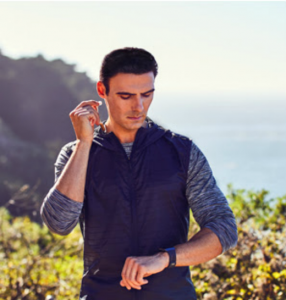 Vagabond Small Group Tours of Ireland has seen more and more of its guests wearing their Fitbits while vacationing. This company delivers two styles of travel that will result in different Fitbit scores at the end of a day. Vagabond Adventure Tours targets active travelers with hiking, biking and kayaking, while days on a Driftwood Journeys of Discovery tour are more leisurely paced.
While it's too early in this Fitbit craze for meaningful statistics, the company expects that the average Driftwood client will score from 12,000 to 20,000 steps a day, while an average Vagabond client may achieve from 18,000 to 26,000 steps a day.
"We look forward to being able to make comparisons of the average number of steps made by Vagabond and Driftwood guests," said Rob Rankin, co-owner of Vagabond Small Group Tours of Ireland. "The Fitbit angle is all about taking steps without even realizing it because of the beautiful surroundings and interesting historical sites and villages."
One client already reports averaging around 20,000 steps daily while wearing a Fitbit on each of three different Driftwood tours. Said the client: "I think my highest was 23,000. That much walking was certainly not required on the tours, but it does show that Driftwood tours can be active, too, if you want them to be! My guides were great about recommending optional walks for me along the way. I enjoyed seeing so much of the lovely towns and countryside on foot — while working off all the Guinness!"
A comparison of two tours showcases the difference in activity levels.
Vagabond's 7 World Tour of Ireland and Driftwood's 7 Day Treasure Ireland Tour both cover similar geography in the south and southwest of Ireland. The key difference is a faster pace on the Vagabond tour so guests see more each day thanks to activity options that include hill walking, horseback riding, kayaking or cycling. They also can take a boat out to the Skellig Islands to visit an incredible ancient monastery (where the latest Star Wars movie was filmed). The Driftwood tour focuses more on visiting historical sites, cultural experiences and world-class gardens that are preferred by guests who on average are ages 65 and up.
"We recommend that guests on our active trips have a good level of fitness and are able to walk for at least an hour and a half on uneven ground and uphill for some of the time. If you are able to walk five miles in a city, your fitness level is perfect," explained Rankin. "However, there is never any pressure to do everything an itinerary calls for. Our guides will suggest other options if you don't want to do certain activities."
Rankin noted that multi-generational groups prefer the active Vagabond tours because there is something to keep everyone happy and busy. The youngest guests are usually in their teens or early 20's, but ages 10+ are always welcome.
Contributing members are responsible for the accuracy of content contributed to the Member News section of AdventureTravelNews.