Vagabond Small Group Tours of Ireland is in the line up to receive accolades from the brand new International Travel & Tourism Awards that will be presented for the first time on Nov. 6, 2018, by WTM London (World Travel Market London).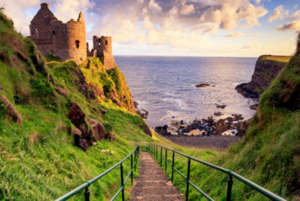 This is the inaugural year for the awards that celebrate the success of national, regional and city tourist boards and recognizes outstanding private sector companies and individuals. Organized by WTM London, along with an independent panel of expert judges, the 13 awards showcase the best in class of the global travel and tourism industry before an audience of 500+ senior industry professionals.
International Travel & Tourism Awards has singled out in its Best of Adventure category, Vagabond Small Tours of Ireland's 7-day Magnetic North Adventure Tour and its role in breaking down borders in the northern part of Ireland.
"Our Magnetic North Adventure Tour brings tourists into a region that for decades was overlooked because of border issues," said Rob Rankin, founder and owner of Vagabond Adventures with Amy Rankin. "Basically, nobody wanted to visit Northern Ireland because of the 'Troubles' there. This only started to change in the early 2000s really. The northwest county of Donegal, despite being in the Republic of Ireland (the 'south'), was almost cut off from the rest of the state geographically. Thus, its tourism did not develop in the same way as in other parts of the country."
Magnetic North Adventure Tour crosses a border that is politically "soft" today, he added. However, because the border was deemed "very hard" up until early in the 21st century, a region emerged with its own identity and culture, partly formed by the years of political turmoil and violence.
"Depending on how Brexit pans out, there's a potential risk of this border hardening up again. We'll just have to break that one down too," he said philosophically.
This tour, said Rankin, with 22 scheduled departures in 2018, will…
add 1,452 potential bed nights to an underdeveloped region of Ireland,
potentially bring to local communities an average expenditure per Vagabond client of EURO 1,500,
offer something new to attract repeat customers to come back to Ireland,
help the promotion of this area of Ireland.
Vagabond Small Group Tours of Ireland has been revealing the hidden treasures of Ireland through its carefully planned and executed tours since 2002. Last year the Irish Tourism Awards singled the company out as offering Best Adventure Experience, and also in 2017 it became Ireland's first tour operator to achieve Ecotourism Gold Level Certification
Vagabond Small Group Tours of Ireland offers two styles of culturally immersive travel. Vagabond Adventure Tours (the division hosting Magnetic North Adventure Tour) are for active travellers who want to mix up hiking and biking and other outdoor adventures with history, culture, dining and shopping. Driftwood Journeys of Discovery follow similar itineraries but at an intimate and in-depth looking and lingering pace, sans the physical exertion.
On all of its tours, Vagabond staff curate locally owned accommodations, pubs and restaurants that help serve their goal of authenticity. In the end the mission is to have guests "love Ireland as much as we do." Transport is in a custom 4×4 Land Rover or Mercedes 'Vagatron' that allows access beyond where regular tour buses go.
For more details on the awards please see here.
Contributing members are responsible for the accuracy of content contributed to the Member News section of AdventureTravelNews.