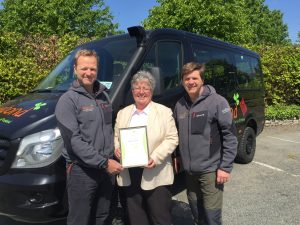 Ireland's leading small-group tour company, Vagabond Tours, has become Ireland's first Tour Operator to achieve Ecotourism Gold Level Certification.
Vagabond Tours founder and owner, Rob Rankin, was presented with the Gold award by Eco Tourism Ireland's, Mary Mulvey. Speaking at the presentation, held in conjunction with 'Leave no Trace Ireland's' AGM at the Royal Hospital Kilmainham, Rankin reaffirmed Vagabond's commitment to sustainable tourism and the multi-faceted role played by the company. "As a company, We have always been very aware of our environmental and social responsibilities, that we are one of many caretakers of Ireland and have a responsibility to practice sustainability to ensure the landscape, the Irish culture and traditions are protected for future generations and visitors alike to enjoy and experience'. In a recent exercise with our team, being environmentally aware was universally adopted as one of our key company values.
Below are some of the measures and practises that Vagabond employ to reduce our environmental impact:
Carbon Neutral – Last year we completely offset our carbon footprint for 2016 with the planting of 110 trees in conjunction with the Woodland Trust UK . We have great plans for increased planting going forward – more news to follow…
Back at base – We undertook a number of initiatives at our Co. Wicklow base – from increasing our recycling rate to over 95% of waste to retro-fitting LED lighting (which has reduced our electricity consumption by 60%). This will continue with the installation of solar panels to further reduce our carbon footprint.
Team Training – We also firmly believe we have a responsibility to educate our guests and all of our Guides have completed Leave No Trace Ireland awareness training. This helps enable them to instill a love and respect for our environment amongst our guests which we hope they will take home with them.
Vehicle Operations – Our vehicles are modern, new and super-efficient Mercedes and Volkswagen models. Our drivers are trained to drive in a smooth, safe and efficient way. Their driving is monitored via GPS systems with alerts set for engine idling, aggressive driving and heavy braking – all factors which increase fuel consumption and vehicle wear. We have even stopped 'washing' our vehicles and now use a biodegradable spray on solution – and lots of elbow grease!
A lot of work has been put into or sustainability policies, practises and Eco Certification and Vagabond would like to thank all those involved, citing the input from all of the Vagabond team, both office and guides, along with suppliers and partners.
Vagabond Tours has a dedicated sustainability page on its website via which visitors can calculate and offset the carbon cost of their Irish holiday. This page also outlines other initiatives undertaken by the company such as water-free cleaning of its vehicle fleet, compostable coffee cups for guests, and waste separation and reduction.
What is the Eco-Tourism Ireland Gold Level accreditation?
"These Ecotourism approved experiences are at the forefront of the industry. They are provided by businesses dedicated to educating tourists about the natural world and local culture. They are striving to be environmentally innovative and socially responsible. Their ecotourism products have a positive impact on the environment, local communities, and their clients. They will invest both time and money to maintain positive ecotourism practices. These Ecotourism approved experiences have had an on-site assessment, which verified that they have received 85-100% of the available points." EcoTourism Ireland.
Contributing members are responsible for the accuracy of content contributed to the Member News section of AdventureTravelNews.