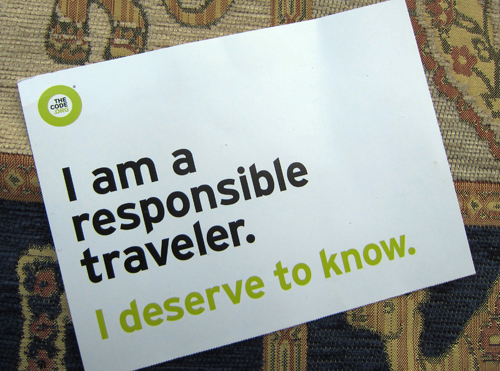 'The Code' is Code of Conduct for the protection of children from sexual exploitation in travel and tourism.  Not the cheeriest of subjects, but sexual exploitation and sex trafficking exist in all corners of the world, and quite possibly right in your home city.
Alessandro Isola, Director of Global Exchange Reality Tours —"Prior to Global Exchange I worked as General Manager of a hotel in Kenya. Unfortunately, while there I witnessed firsthand how the industry can at times foster the sexual exploitation of children, and how some hotels allowed these practices on their own premises, and refused to

take action against this horrendous practice.  One year later while working in New Zealand I first learned about ECPACT and how the industry was responding to a serious issue. I've been really excited to see an increasing amount of tour
operators, hotels, and other industry individuals become more sensitive to the campaign against exploitation, and increasingly supportive of The Code. I truly believe The Code is a necessary tool that everyone working in the tourism/travel industry should be aware of and implement.
Joe Staiano, Founder, Meaningful Trip — "I've had the fortune of traveling to over 75 countries, and many of those were in developing regions of the world where human development problems of exploitation, abuse, poverty, health problems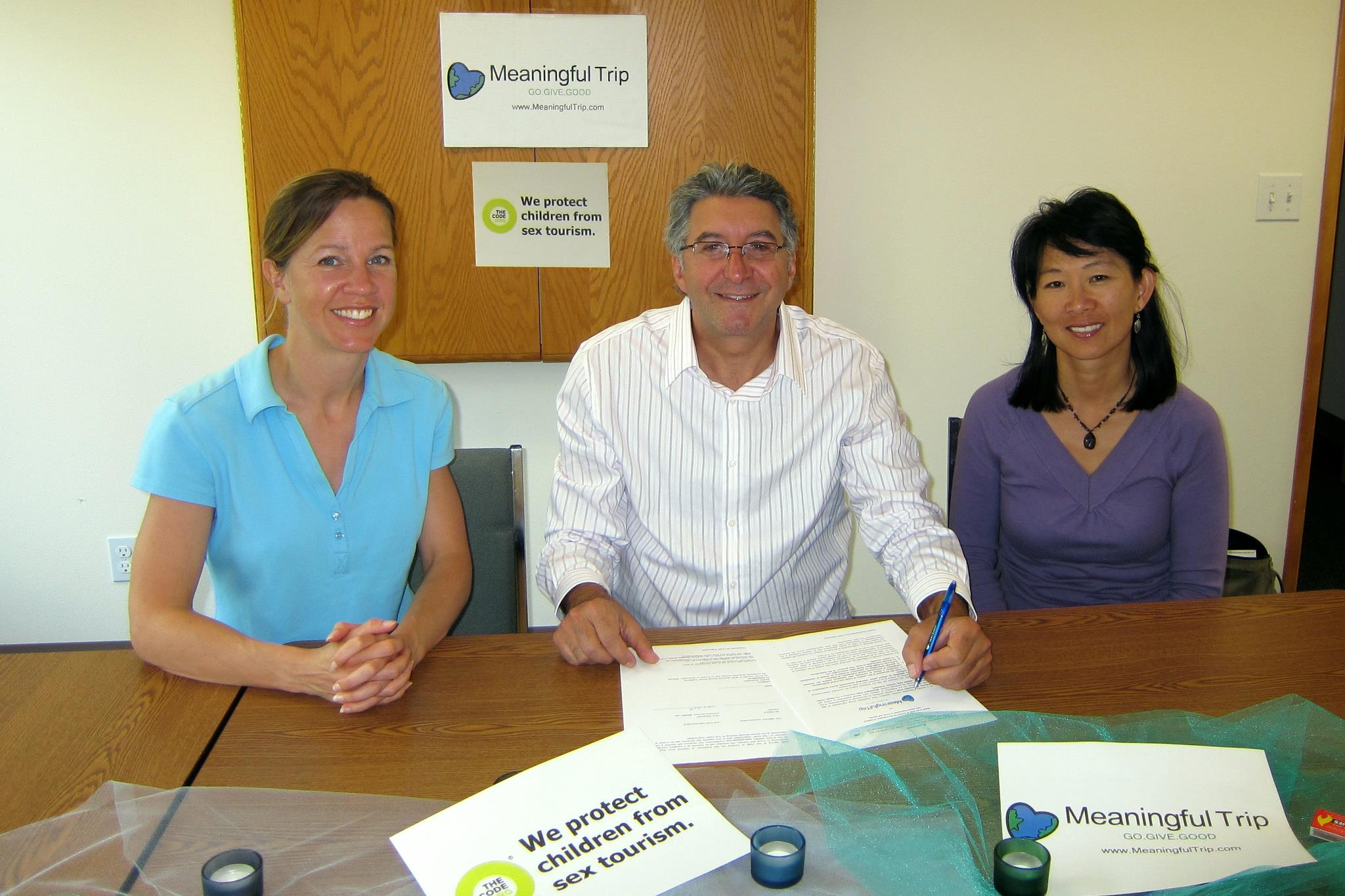 and environmental degradation are more out in the open. In numerous visits to Asia and SE Asia I noticed unacceptable things such as young women (sometimes, very young women) on street corners, or older tourists with young escorts walking around town, shops, restaurants in both daytime as well as nighttime. Through my travels, I had heard of ECPAT International, and that ultimately led me to learn about The Code."
Global Exchange Reality Tours signed The Code in 2010. It represented a natural fit for the organization, not only because for the past 25 years we have been promoting social, economic and environmental justice nationally and around the globe, but also because Reality Tours have been leaders in promoting socially responsible tourism.  We have partnered with the Not for Sale Campaign in raising awareness around human trafficking.  We facilitated numerous delegations to countries that have seen an increase in human trafficking in order to give to our participants a comprehensive education in the mechanics of human trafficking, as well an understanding of its underlying causes. The Code represents a very important tool for us to not only educate our participants, but also to our partners on the ground around ways to prevent and combat sexual exploitation of children and adolescents.
Being a signator of The Code is not a simple process. As a company, you are declaring a commitment to take necessary actions to implement specific criteria covering areas such as business policy, business contracts, training of key personnel and training of local guides. Companies submit an action plan, pay an annual fee, and commit to producing an annual report. "Yes, a long, but absolutely worthwhile process and commitment", Joe Staiano. This entire process has opened my eyes to broader issues of exploitation and trafficking, and particularly how these issues exist right here at home.  Through my involvement with the Code, I have come to know and support local organizations in my city (Seattle) taking up the fight against exploitation and trafficking. During the signing of The Code, I was proud to have at my side Ms. Mar Smith, Founder of BEST, Businesses Ending Slavery & Trafficking, and Ms. Rose Gundersen, Co-Founder of Washington Engage.
In late 2012, the Adventure Travel Trade Association (ATTA) became the first USA tourism association to sign the code.  Adventure Travel Trade Association signs The Code
KNOW. SUPPORT. BE INVOLVED.
Contributing members are responsible for the accuracy of content contributed to the Member News section of AdventureTravelNews.