An Outpost is the last connection to civilization. Leading experiential travel company, Upscape, has recently launched Outpost – Chile's first off-the-grid, pop-up camp experience found within the vast remoteness of Patagonia's wilderness, created to escape the buzz of 21st-century life.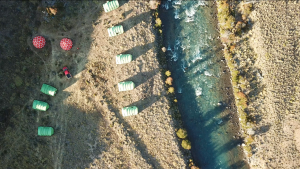 "The mindset around travel has changed – travelers want challenges, meaning and something not yet discovered. At the same time, the constant presence of Wi-Fi and pressures of social media make finding those moments—and fully enjoying them—increasingly difficult every day," says Upscape Founder & CEO, Brian Pearson. "We were able to use our deep knowledge of the land to identify lesser-known destinations, outside of the common travelers' route, to create places where family and friends can come together and truly explore."
Outpost launches with private and group excursions in Aysén, a sparsely populated area with vast glaciers, fjords and snow-capped mountains, and Maule Valley, one of the oldest wine-producing regions in Chile. Upscape's inaugural Outpost debuts along Patagonia's Río Jeinimeni in February 2019 and the Maule region in October 2018 with announcements to follow for Outpost Atacama, Outpost Elquí and Outpost Lakes for the 2019 and 2020 total solar eclipses, respectively.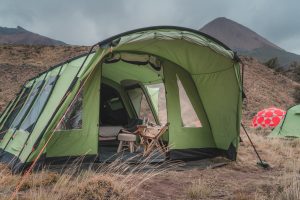 Despite the vast remoteness, Outpost guests are surrounded by comfort and accompanied by specialty guides intimately familiar with the land. Each camp accommodates up to 16 people in private, furnished tents and offers a relaxing base for trekking, fly fishing, horseback riding, paddling, and photography classes.
Travelers can book Patagonia and Maule locations as private Outposts or join small-group excursions. Pricing includes specialty guides, a private cook (daily food and drink) and lodging.
Current & Upcoming Outposts
Outpost Patagonia
Within the Jeinimeni Reserve, which stretches from Argentina to the Patagonia Ice Fields in Chile, Outpost Patagonia is found along the shores of the brilliant turquoise river, Río Jeinimeni. This largely uninhabited area has four markedly different ecosystems, including: deciduous forests, evergreen forests, steppe, and high peaks, creating unique and dramatic scenery. Outpost Patagonia is positioned as a home base for travelers to explore, as well as access the entrance of Patagonia Park, the conservatory that made headlines earlier in 2018 when it was gifted by the Tompkin's Conservation to the Chilean government.
Outpost Maule
Maule Valley, within Chile's region VII is known historically as the southern-most boundary of the ancient Incan empire. Today, locals preserve generations of family land and winemaking customs. While only a few hours from Santiago, a visit can be described as stepping back in time. Outpost Maule is found along the shores of Río Maule, which runs through the wine valley westward from the Andes and provides a home base for travelers to explore nearby wineries, including Bouchon Family Vineyards, where the País Salvaje is made from wild grown uva país.
Outpost Atacama
Coming late 2018.
Outpost Elqui
Coming for the total solar eclipse 2019 near Elquí Valley, Chile.
Outpost Lakes
Coming for the total solar eclipse 2020 near Pucon, Chile.
Contributing members are responsible for the accuracy of content contributed to the Member News section of AdventureTravelNews.