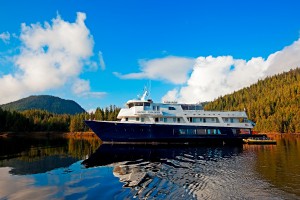 With twenty years of small ship adventure cruising under its unconventional belt, UnCruise Adventures celebrates its evolution with a brand refresh. Travel agents ordering the new brochure will notice changes such as a new logo and the removal of the dash in UnCruise.
"Our new logo is a fresh take on the whale tail bringing together the three elements that make our trips memorable," said Richard Edwards, vice president. "It's adventure, and the place, and the intersection of the two is the connection. People make lifelong memories and friendships from connections made with each other and the natural environment."
A new brochure of adventures offered from January 2017 to April 2018 is arriving in travel partners' mailboxes now. UnCruise Adventures' fleet of boutique yachts and small ships carry 22-88 guests on adventure cruises from one week to 21 nights in Alaska, British Columbia, coastal Washington, Columbia and Snake Rivers, Mexico, Hawaii, the Galápagos Islands, Costa Rica and Panamá.
New in 2017, ten departures in the Galápagos Islands offer an updated nine-day itinerary including an extension to Quito, Ecuador. Updated Costa Rica/Panamá and Pure Panamá itineraries add a pre-cruise hotel night for nine-day trips. In addition, a new Costa Rica Beaches & Jungles itinerary begins in December 2017 and offers nine day adventure cruises roundtrip from San José, Costa Rica exploring further north into the Papagayo Gulf.
To highlight the brand updates, travel agent partners have been invited to "Define your Un-ness" in a contest running on the company's Facebook page or website.  One winner will be drawn at random on August 18 and gifted a cruise for two in Mexico's Sea of Cortés this winter.
What is Un-ness? UnCruise defines theirs as:
"To break away from the masses. Challenge. Freely used to release, exemplify, or intensify a force or quality. To engage, connect, and explore unique places, oneself, and with others on a most uncommon adventure."  Travel agents may define their own un-ness with one word, a sentence or more.
View brochures online or order a printed brochure.
Contributing members are responsible for the accuracy of content contributed to the Member News section of AdventureTravelNews.