Alaska small ship adventure cruises explore inside Glacier Bay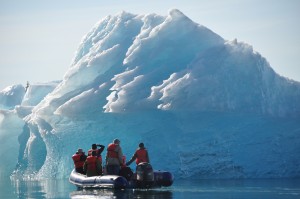 Seattle, WA — The National Park Service has awarded Un-Cruise Adventures 102 permit entries per year into Alaska's majestic and pristine Glacier Bay National Park for a five year period beginning in spring 2016. Six small ships carrying 22-84 guests will explore Glacier Bay in intimate groups on weeklong adventure cruises.
Operating Alaska cruises since 1997 and celebrating 20 years in business in 2016, Un-Cruise Adventures has worked with the park service for entry permits into Glacier Bay National Park since 2001. A National Park ranger joins each ship in the bay to enrich the experience with interpretation.
"We're happy to offer so many adventure days inside Glacier Bay and credit our long-term relationship with the park service," said Captain Dan Blanchard, CEO.  "Few visitors have the opportunity we do to explore the park up close by sea and ashore.  It's a real treat for our guests."
Glacier Bay takes center stage in 2016 when the National Park Service commemorates its 100 year anniversary.  Guests visiting Glacier Bay during the week of August 25, 2016—the actual anniversary day—will enjoy a commemorative gift and special celebration on board Un-Cruise Adventures' ships.
Itineraries spending one day inside Glacier Bay National Park include Exploring Muir's Wilderness and Northern Passages & Glacier Bay; Discoverers' Glacier Country spends two days inside the park.  The 22-guest Safari Quest, 36-guest Safari Explorer, 60-guest Wilderness Adventurer, 74-guest Wilderness Explorer, 76-guest Wilderness Discoverer and 84-guest Safari Endeavour are the six ships exploring Glacier Bay.
All the line's itineraries visiting Glacier Bay include a stop in Bartlett Cove and the park's visitor center. Several hiking trails are available to explore.  On cruises with two days inside the park, more time is spent searching for wildlife and viewing glaciers; guided skiff, hiking and kayaking excursions explore additional areas of the park.
In 2016, Un-Cruise Adventures' six small ships sail 113 departures on seven itineraries in Alaska. Every Alaska cruise includes adventure activities in remote wilderness—hiking, kayaking, paddle boarding, skiff excursions and whale watching. With few or no port calls and flexible itineraries, travelers spend the week exploring remote wilderness and searching for wildlife.
Rates begin at $2,295 per person, double occupancy and include fresh, innovative meals; adventure activities; transfers day of cruise; hot tub; fitness equipment and DVD library. Other amenities vary by vessel and may include premium wine, beer and liquor; a massage; sauna and wine bar.
Contributing members are responsible for the accuracy of content contributed to the Member News section of AdventureTravelNews.