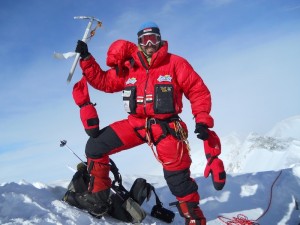 Omar Samra, founder and CEO of Wild Guanabana,  the Middle East's first carbon neutral travel company, moved one step closer to a life-long "7 Summits" dream as he battled through temperatures of -40C to reach the peak of Antarctica's highest mountain, the 4,892m high Vinson Massif at 18h45 Antarctica Local Time on Thursday, 5th January 2012.
The Egyptian adventurer who first made his name by becoming the youngest Arab and first Egyptian to climb Mount Everest, Samra (33) has now completed six of the seven summits in the "7 Summits Challenge" which comprises the highest peak on each of the seven continents in the world.
Notably, Samra's 7-Summits mission has centered on ensuring that his climbs are carbon neutral, a first in the mountaineering world.  Passionate about environmental and sustainable standards in all travel, including his travel business Wild Guanabana that specializes in life-changing travel experiences, Samra will be offsetting the emissions for his seven summit climbs since he began in 2007.
Speaking from a satellite phone after reaching the summit Omar remarked, 'I am now only one step away from my goal. Climbing Vinson Massif has been one of the biggest challenges of my life and it feels incredible to have succeeded. I am extremely grateful to those who have supported and sponsored me – this would never have been possible without them. I hope this will motivate and inspire others to chase their dreams, and also serve to highlight the environmental issues we are all facing and what we can all do to play our part.'
Facing extreme conditions, the expedition to Vinson Massif is far from risk free – only 1,400 having succeeded in conquering the 4,892m peak, which stands some 1,200km from the South Pole. Vinson Massif, at 78°35'S, 85°25'W is 21km (13 miles) long and 13km (8 miles) wide. It lies on the southern part of the main ridge of the Sentinel Range. Temperatures in the Antarctic continent are the coldest in the world and this makes the higher reaches of the mountain one of the coldest places on our planet.
Platinum sponsor Sprite Egypt contributed to the core financial costs for Omar's expedition, while Adventure HQ provided mountaineering equipment and the use of their 'Chill Chamber' which can reach frosty temperatures as low as -25°C.  Innovative power solutions provider Goal Zero supplied the necessary solar power equipment to help ensure Omar stayed charged and connected in the most eco-friendly manner.  Advanced Global Trading (AGT) will be calculating the footprint of the expedition, and will procure the number of credits needed to ensure the journey is certified as carbon neutral.
To achieve his goal of being the first Egyptian and youngest Arab to complete the 7 Summits, Omar intends to summit Denali next year – the highest mountain peak in North America and the United States, with a summit elevation of 6,194m.
Omar has already successfully climbed Everest (May 2007), Kilimanjaro (April 2008), Elbrus (August 2008), Carstenz Pyramid (April 2009), Aconcagua (February 2011) and now Vinson Massif (January 2012).
To learn more about Omar Samra and his award winning company Wild Guanabana and check their calendar for life-transforming journeys and adventures please visit www.wildguanabana.com
Contributing members are responsible for the accuracy of content contributed to the Member News section of AdventureTravelNews.