On World Wildlife Day, Tiffany & Co., Discovery Communications, Royal Caribbean Cruises, JetBlue and other leading brands make substantial commitments to end wildlife trafficking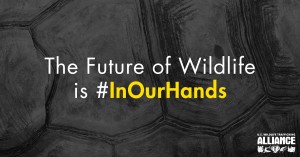 Washington, DC – To celebrate World Wildlife Day, 16 leading U.S. companies are making substantial commitments to combat wildlife trafficking, in collaboration with the U.S. Wildlife Trafficking Alliance (the Alliance), and highlighted and applauded by the U.S. Department of the Interior.
Today's announcement is a significant step forward in the U.S. effort to save at-risk species around the world. It is a direct response to President Obama's call to corporations and nongovernmental organizations to join in partnership with the Administration in a broad coalition effort to stop the demand for illegal wildlife products and choke off the supply chains relied on by traffickers for access to the U.S. market. Four of the most prominent nonprofit organizations that have long been active on this issue—National Geographic, World Wildlife Fund (WWF), the Wildlife Conservation Society, and the African Wildlife Foundation—helped to found the U.S. Wildlife Trafficking Alliance in response to this call to action. Many other influential NGOs readily signed onto the effort, including RESOLVE and the International Fund for Animal Welfare who, together with WWF and WCS, played a key role with several of the corporations that are announcing commitments today. And today, the Alliance welcomes some of the nation's leading corporate brands to partner with the U.S. government and the nonprofit community in the fight to shut down the illegal wildlife trade in the United States.
"Worldwide demand for ivory and other illegal wildlife products is decimating iconic wildlife populations and supporting international criminal syndicates that are destabilizing governments and supporting terrorist groups," said David J. Hayes, Chair of the U.S. Wildlife Trafficking Alliance. "The Alliance is honored to partner with leading companies, conservation organizations, and the U.S. government to educate U.S. consumers and shut down U.S. demand for illegal wildlife products. By putting our wallets in line with our values we can work together to protect these treasured species for the benefit of our planet, our security, and future generations."
"If the current rates of poaching and wildlife trafficking continue, entire species are at risk of disappearing within our lifetime, and our children and grandchildren will never know the beauty and majesty of these iconic wild animals," said Secretary of the Interior Sally Jewell, co-chair of the President's Task Force on Wildlife Trafficking. "The U.S. is one of the largest markets for illegal trade of wildlife products, and preserving these important species means ending supply and demand for trafficked goods."
"We have made good progress in cracking down on this illegal market through cooperation across governments, but the private sector has an important role to play in these efforts," added Jewell. "I applaud the U.S. Wildlife Trafficking Alliance and the leadership of David Hayes in encouraging thoughtful businesses and non-profits to step up with strong commitments to stop this scourge."
Wildlife trafficking is a criminal, multi-billion dollar industry centered on the killing of endangered and threatened species to produce illegal products made from ivory, snake skins, animal furs, and other animal parts. The United States is one of the largest markets for these products, which means that demand from American businesses and consumers has a tremendous influence on whether lions, elephants, pangolins, and other at-risk species will become extinct within our lifetime.
The corporate commitments announced today are from leading companies in industries that wildlife traffickers try to utilize to sell their goods. The commitments today send a signal to traffickers that U.S. companies will not turn a blind eye to this criminal activity, and that the U.S. market is closing its doors to their illegal products.
Leading the way in the e-commerce sector is Google, eBay and Etsy; Ralph Lauren for the fashion industry; for the jewelry sector, Tiffany & Co., Signet and the Berkshire Hathaway companies, Richline Group and Rio Grande; LiveAuctioneers.Com in the auction industry; for the travel industry, JetBlue, Royal Caribbean Cruises, Natural Habitat Adventures, and the Adventure Travel Trade Association. Discovery Communications has also stepped up, committing to using their networks and programming to educate consumers about the issue. The Bronx Zoo and other members of the Association of Zoos and Aquariums will educate their visitors, which number over 180 million each year.
The commitments announced today are from influential American businesses agreeing to use their own resources to share best practices, communicate with their consumers about the pervasive problem of wildlife trafficking in the U.S., and to take additional steps to ensure their supply chains are free from illegal wildlife products. These brands and companies are publicly standing with the Administration and the prominent nonprofit conservation organizations and foundations that are members of the U.S. Wildlife Trafficking Alliance. Together, they are demonstrating the key role that the U.S. business community can play, in collaboration with the U.S. government and the nonprofit community, in saving wildlife and stemming the tide of this illegal industry. The Alliance gives special thanks to its NGO partners, World Wildlife Fund, the Wildlife Conservation Fund, the International Fund for Animal Welfare and RESOLVE, and its government partner, the U.S. Fish & Wildlife Service, for working closely with these leading companies and facilitating their involvement in this important effort.
"As a leading global house of luxury, Tiffany has a special responsibility to set an example on this important issue," said Mike Kowalski, Chairman of Tiffany & Co. "Tiffany has not sold ivory, coral, or exotic skins for many years due to the potential of harming endangered wildlife. We are proud to be part of this cross-industry effort to help more companies and consumers make informed choices and shut down the market for illegal wildlife products in the U.S. We applaud the efforts of Berkshire Hathaway, through Richline and Rio Grande, and will work with them and other leaders in our industry to ensure our jewelry is free of illegal wildlife products."
According to the U.S. Department of State, wildlife trafficking generates approximately $10 billion per year in illegal profits for criminal syndicates that are masterminding the killing, transport, and marketing of illegal wildlife products. The wildlife trafficking industry in the U.S. is second only to the drug trade in profitability. U.S. intelligence agencies have confirmed that in addition to other criminal enterprises, wildlife trafficking is corrupting governments, undermining the rule of law, and helping to finance insurgent groups and organized crime.
The illegal wildlife trade is threatening the survival of many species in the wild. In a recent three-year period, approximately 100,000 elephants—one-fifth of the entire African elephant population—were killed for their ivory. Smaller rhino populations in Africa also are being decimated at rates of more than 1,000 killings per year; African lion populations have plummeted by almost 50 percent in the past three decades; and more than 1 million pangolins have been poached from the wild in the last decade alone.
"The U.S. is one of the largest markets for illegal animal products, but few American consumers are aware of the true extent of demand in our country, or the global scope of the problem," said Alexa Verveer, Senior Vice President, Public Policy, Corporate & Government Affairs at Discovery Communications. "Discovery Communications has joined the U.S. Wildlife Trafficking Alliance to help create a global campaign to bring awareness to consumers on this important issue. By adding to Discovery's rich portfolio of purpose-driven programming around our changing natural word, it's our hope that this global initiative will help stop the supply and demand for illegal wildlife products."
The full list of corporate partners making commitments to stop wildlife trafficking today is:
Google
eBay
Etsy
Ralph Lauren
Tiffany & Co.
Signet Jewelers
Richline Jewelry and Rio Grande (Berkshire Hathaway companies)
LiveAuctioneers.com
Discovery Communications
JetBlue Airways
Royal Caribbean Cruises Ltd.
The Adventure Travel Trade Association
Association of Zoos & Aquariums
Bronx Zoo
Natural Habitat Adventures
The Administration is inviting the companies listed above and their NGO sponsors to a meeting at the White House on April 4th to celebrate their corporate commitments and discuss next steps. On the same day, National Geographic will be hosting a public meeting for the U.S. Wildlife Trafficking Alliance and its members. The meeting at National Geographic will feature presentations from Administration officials and Congressional leaders, as well as panel discussions that will focus on additional steps that U.S. companies can take, in partnership with the U.S. government and nonprofit community, to shut down wildlife trafficking in the U.S., including strategies to raise awareness and influence U.S. consumer purchasing decisions.
For a full description of the company commitments, please visit USWTA.org. The U.S. Wildlife Trafficking Alliance's NGO partners include:
African Wildlife Foundation
Association of Zoos & Aquariums
Born Free USA
Conservation International
Defenders of Wildlife
Environmental Investigation Agency
Humane Society International
International Fund for Animal Welfare
National Geographic Society
Natural Resources Defense Council
RESOLVE
The Humane Society of the United States
The Jane Goodall Institute
The Nature Conservancy-North America
The Wyss Foundation
TRAFFIC
Vulcan, Inc.
World Wildlife Fund
WildAid
Wildlife Conservation Network
Wildlife Conservation Society
The United States Wildlife Trafficking Alliance (USWTA) is a coalition of nonprofit organizations, companies, foundations and media interests working closely with the U.S. government to combat wildlife trafficking by raising public awareness, reducing consumer demand for wildlife and wildlife products, and mobilizing companies to adopt best practices stop wildlife trafficking.
Contributing members are responsible for the accuracy of content contributed to the Member News section of AdventureTravelNews.