The Tropical Tree Climbing eco-tours in the Brazilian Amazon is the focus of a new FIFA TV promotional video for the 2014 FIFA World Cup Football Championships in Brazil. Founder Leonide Principe offers eco-tourism adventures amid the canopies of the earth's largest rain forest, teach visitors how to achieve and maintain zero carbon footprint along the way.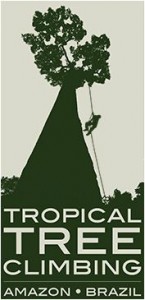 Manaus, BRAZIL – Organizers from the Fédération Internationale de Football Association ( FIFA ) are gearing up for the first wave of ticket sales for the 2014 FIFA World Cup Soccer Tournament, being held in Brazil next summer. FIFA TV journalists and crews ventured far from the noise and bustle of the country's heavily populated cities to the serene center of the Amazon Rain Forest, where Tropical Tree Climbing, an eco-tourism adventure destination tucked deep in the heart of Brazil's Amazon Rain Forest, help create the first promotional video for the 2014 games.
It may seem unusual for football organizers to venture far from the country's 200 million-plus fans base to promote next year's games; but since the upcoming World Cup games' is focused on spreading a message of responsible eco-tourism and sustainability, Tropical Tree Climbing proved to be a shining example of sustainability practices.
Tropical Tree Climbing Founder and Director Leonide Principe and his wife Vanessa Mariño, live with their two young children on their private, 662-acre parcel of pristine Amazon Rain Forest, from where they also operate their guided tour and nature photography business. The family is passionate about maintaining the integrity of the Rain Forest by protecting it from man-made pollution, and they prove it by living as environmental stewards every day.
"In addition to monitoring and neutralizing the carbon gasses produced through our operations, Tropical Tree Climbing offers the opportunity for our guests to neutralize their own CO2 emissions produced during their Amazon Rain Forest travels," Principe says. "Through the local NGO "Carbon Neutro" (Carbon Neutral) program "Institute for Conservation and Sustainable Development of Amazonas (IDESAM,)" we have achieved a carbon footprint of zero, and we're teaching others how they can do it too,"
In the run-up to World Cup tournament next year, FIFA has established guidelines on the topics of green construction, climate change, responsible waste management, volunteer training and more, making renewable energy the name of next year's game according to Federico Addiechi, FIFA's Head of Corporate Social Responsibility.
"We are hosting a lot of activities; for example, next week we have a "Football for Hope" forum scheduled, and numerous other events geared to share  FIFAs commitment to renewable energy in order to produce clean energy," Addiechi says.
"The FIFA World Cup organization has an enormous influence on society, and we plan to make use of that influence as we give a voice to sustainability and ecological responsibility."
Addiechi said that sustainability plays a particularly important role in Brazil in 2014, as more than three million people from around the world are expected to join Brazil's two million-plus citizens for the games, scheduled to kick off in Sao Paulo on June 12, and play in 11 additional Brazilian cities through July 13. The final championship game will be held July 13, 2014 in Rio de Juniero. For more information, visit the Tropical Tree Climbing website and fill out the contact information request form for more information.
Contributing members are responsible for the accuracy of content contributed to the Member News section of AdventureTravelNews.