After a difficult year,  consumers are very eager to get back out again after more than a year at home, and they have saved-up the money to do it. 
Flywire recently commissioned independent research with more than 800 frequent travelers across the US, UK, Canada, Spain, and Japan to get a better understanding of their thoughts regarding travel post-pandemic. We heard a lot of optimism and excitement about traveling. In fact, more than 8 out of 10 people said they were as enthusiastic about travel as they have ever been. At the same time, they also indicated that travel may not be exactly the same way we left it in 2019. 
Below are a few of the things we learned that make us optimistic. If you are interested in more details, including country by country breakouts, you can download the full report here. 
People will spend more on travel.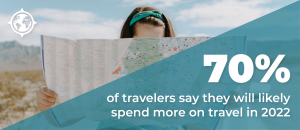 70% of travelers say they will likely spend more on travel in 2022 than they have in the past five years.

64% say when they can travel again, their travel budget will increase for the remainder of this year in comparison to the past two years.

63% say they would be willing to pay more

now

to get a spot on a trip they want in the future. 
But travel may look different.
60% say their idea of a perfect vacation has changed due to the pandemic

People will make fewer, but longer trips throughout the year. 65% will take a much longer vacation than usual with some taking advantage of remote work flexibility.

59% say remote work will be a consideration in their future travel plans – as the lines between work and travel blur.

Many travelers report having worked from remote accommodations such as hotels and resorts during the pandemic.  
Health and safety are important considerations.
75% of travelers will look for a destination where there are not a lot of people. This bodes well for adventure travel.

76% would pay more for a trip with additional health and safety protocols such as rapid testing.

For many travelers, being fully vaccinated is a prerequisite to following through on their travel plans—regardless of whether it's domestic or international.   

The situation in the regions they want to travel to will also impact their plans. 
The situation in certain regions remains fluid, but there are a lot of reasons to be optimistic about the return of domestic and international travel as more destinations open up with limited/no restrictions and consumers get ready to make up for lost travel time in 2020. But travel operators have to account for consumers' changing expectations around health and safety protocols, easy payment processes, and flexible cancellation and refund policies.     
Download the complete report— Set to Soar: How Consumer Travel Plans Signal a Tourism Boom. 

Interested in sponsoring a post in AdventureTravelNews for your business? Please contact us at [email protected].