Recent research conducted by the Adventure Travel Trade Association (ATTA) in conjunction with researchers from East Carolina University indicates adventure travelers are increasingly seeking transformative experiences, an expanded worldview, and the opportunity to connect with nature. This includes the ability to see and experience wildlife in its natural habitat. For the travel industry, this interest and motivation to engage in adventure travel is at direct odds with the alarming problem of wildlife trafficking.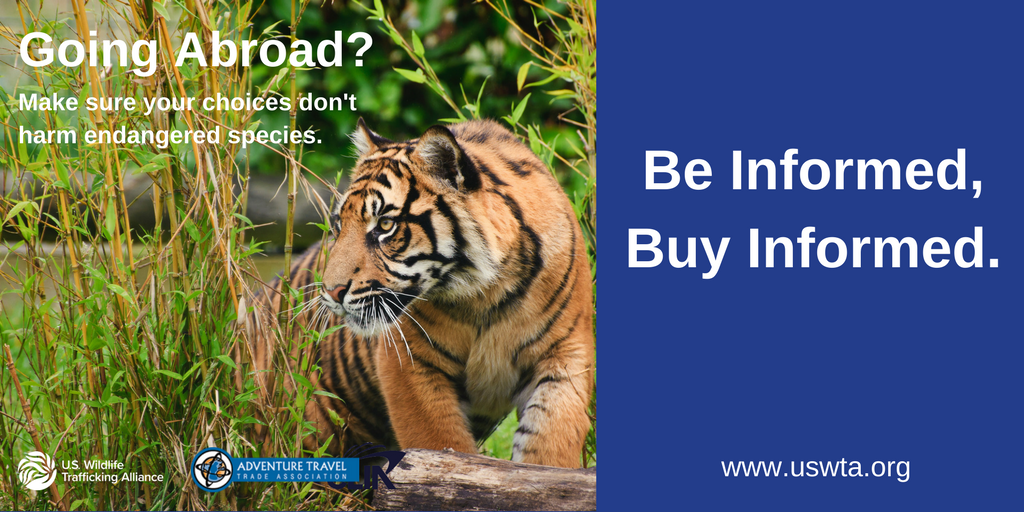 Global issues ranging from climate change to habitat loss have forced many animal species from around the world into steep population decline. However, illegal poaching and an increased demand in exotic wildlife products has pushed many endangered species even closer to extinction. Wildlife trafficking is a multi-billion dollar industry, and wild animals, the environment, and the travel industry are on the losing end of this worsening issue without immediate action.
Not sure where to start? Here are five simple things your adventure travel company can do today to help increase awareness about and ultimately stop wildlife trafficking:
Share these graphics on your social media account at least once a month. Use the hashtag #BuyInformed.
Include this brochure or this one sheeter in every trip pre-departure packet you send to your guests.
Include one of these graphics in your email newsletter or place on your website.
Educate your staff and guides about wildlife trafficking. Ask them to take 15 minutes to read through this industry focused toolkit.
Incorporate a discussion about wildlife trafficking as part of your pre-departure check in call.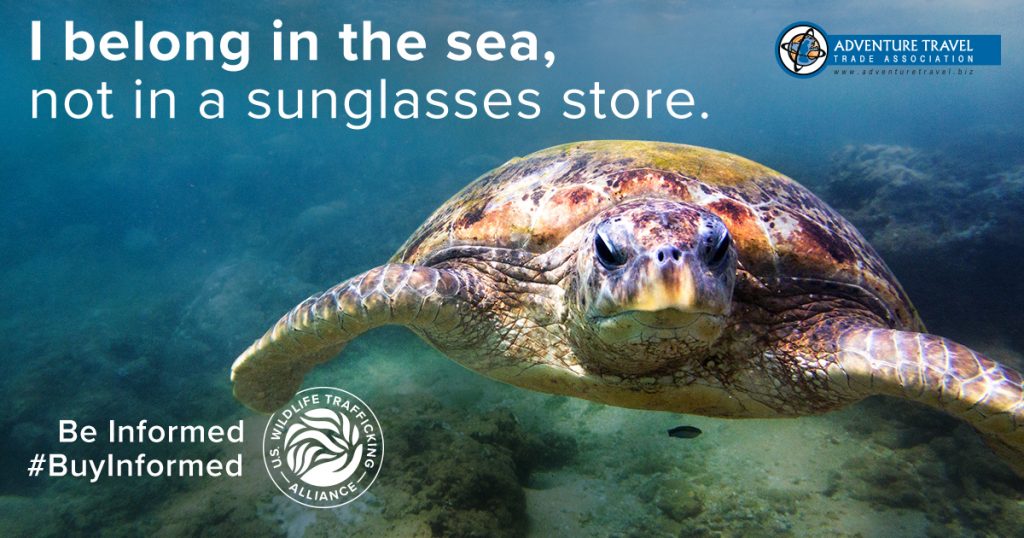 In many parts of the world, the opportunity to connect with nature and view wildlife in its natural surroundings is the primary motivation factor for choosing a particular destination. Without wild animals, the opportunity to view them disappears, and without visitors to stimulate the economy, local communities suffer. Wildlife trafficking creates a domino effect that ripples throughout the entire travel and tourism industry – one that costs millions of dollars each year in lost tourism revenue.
It is critical that the travel industry takes an active role in helping to maintain natural wildlife and ecosystems. This includes educating travelers about this problem, especially as it relates to making smart purchasing choices that don't harm endangered populations. This is a big task, but an essential one, in order to save the world's most iconic species and safeguard the opportunity for future generations to enjoy and appreciate them as well.