The story goes back to mid 1993 when a young couple settled in Chile and discovered this long and narrow country, full of unique beauty and contrasts; which together with their passion for traveling and outdoor activities, saw a promising future in showing Chile to the world.
Thus was born Tierra Sur. Currently, we are a family run business committed to provide personalized service, creating unique programs and tailored to our customers aware that we are obliged to exceed their expectations.
We love Patagonia and hiked most of its trails, including those in Torres del Paine National Park, combining experience with trails in Argentina: Perito Moreno Glacier, El Calafate, El Chalten, Cerro Torre and Mount Fitzroy.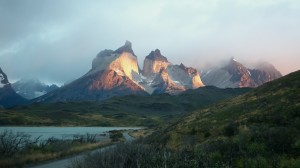 Lake District, it is the name by which is known a vast region that begins in Temuco, to the North, and extends to Puerto Montt, to the South. This is an area rich in culture as being the cradle of the Mapuches, which means "men of the earth", surrounded by snow capped volcanoes, marked by the presence of lakes and rivers of extraordinary beauty and pristine waters, along with extensive native forests. This is an area that never ends to astonish and inspire the beginning of a new adventure.
Easter Island or Rapa Nui, called the "navel of the world", is the most isolated inhabited island in the world. The island itself is a National Park and has been declared a World Heritage Site by Unesco. It is full of mystery and surprising folklore. We marveled at its enigmatic and ancestral heritage depicted on its altars, or Ahu, and the Moai; those stone giant guardians that protect the island and its people.
We were amazed and fall in love with the wonders of the Atacama Desert, the driest desert in the world, the inner strength of our planet shown in the Tatio Geysers or those magical geological formations in the Moon Valley together with the charm of its people.
We often travel throughout Chile, testing, discovering and creating new products and services that make possible an unforgettable journey and exceptional results. Chile is magical and is waiting for you!
The professionalism and human qualities of our people are our main asset. This will ensure a warm and human reception; with a real concern for your trip, whether for business or pleasure, free from complications, doing your trip a lifetime experience.
We are not only working in the adventure travel industry, our main business is to create happiness. We make things happen!
Our mission:
We work to make your holidays a lifetime experience, meeting and exceeding your expectations.
We work to provide a unique and personalized service.
Be architects of your travel experience.
Create programs that fulfill the expectations of our passengers.
Respect the local culture and environment, preserving it for future generations.
Our vision:
Being synonymous with excellence.
Show the routes of Chile and South America and, thereby, the identity of each place.
Work in a setting where excellence is the common denominator.