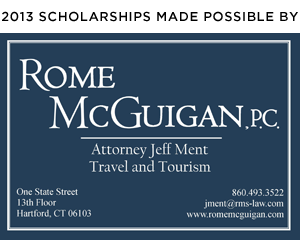 Seattle, WA – Providing financial support to early-stage adventure tourism enterprises is the purpose behind the Tour Operator Scholarships launched today by the Adventure Travel Trade Association (ATTA) and the  legal office of Rome McGuigan, P.C., adventure travel legal specialists.  
Deserving scholarship winners for 2013 will gain access to the Adventure Travel Trade Association's global network of nearly 900 members, its membership resources and travel fare and a delegate seat for the 2013 Adventure Travel World Summit set for October 26-31, 2013 in Windhoek and Swakopmund, Namibia.
Scholarship winners will use these ATTA resources to help them grow their business, network, develop their professional skills and be inspired by industry peers and influencers, all with the end goal of providing them the chance to take their business to the next level.
Specifically, each of the three scholarship recipients selected by May 15, 2013, will receive:
One annual Tour Operator membership in the Adventure Travel Trade Association ($600)

One pass for one person from the Tour Operator company to attend the Adventure Travel World Summit held October of this year ($1,150)

$1,500 USD for Scholarship winner's travel to the Summit
All entries will be reviewed by members of the ATTA's staff and Advisory Board, and then voted upon to determine the winners based on the following criteria:
Demonstrated need ie. start-ups, non-profit status, located in an emerging, but impoverished destination, etc.;

Potential for positive impact on local cultural, ecological, and/or historical resources;

Exemplary ecological, historical, and cultural practices;

Exemplary efforts to work with local and indigenous peoples;

Proof of the highest level of professional ethics and practices; and,

Ability to prove how this Scholarship will be used to elevate the business to a higher level of success – and how it can be utilized over the long run in order to build long-term and lasting success for the company.
Tour operators must be at least 18 years of age, legally able to travel to Namibia, incorporated adventure travel tour operators only, have been in business for more than three years and bring in less than $250,000 USD each year in gross revenue
The Scholarship submission period opened April 1st, with final entries due by 11:59 p.m. (PDT) on April 30, 2013. Only 100 applicants will be accepted, if they are received prior to April 30 than the application period will close early. Qualified tour operators may access the Tour Operator Scholarship Submission Form and the complete and official program and application details at: https://www.adventuretravel.biz/connect/summit/scholarship/
About Rome McGuigan
The law firm of Rome McGuigan, P.C. enjoys an enviable niche among law firms with its Travel and Tourism Department. This group, led by Attorney Jeff Ment, represents many facets of the travel industry – tour operators, suppliers, agents and insurers. Among the broad range of travel and tourism services offered, one key speciality is handling the immediate needs following an incident or accident. Another core focus of the Department is to assist clients with day to day operations including drafting contracts, waivers and terms and conditions; reviewing marketing materials; providing risk management services; preparing critical incident protocols; and navigating effective relationships with vendors, DMCs, providers of accommodations and travel agents. The firm and its lawyers are members of many trade organizations: Adventure Travel Trade Association, United States Tour Operators Association, National Tour Association, Academy of Hospitality Industry Attorneys, Leisure Industries section of the International Bar Association, the Air & Space section of the American Bar Association, and the International Forum of Travel & Tourism. Our clients range from small, start-up operators to some of the world's most respected companies in the travel industry.
About Adventure Travel Trade Association
Established in 1990, the Adventure Travel Trade Association (ATTA) serves nearly 900 members in 80 countries worldwide. Members predominantly include tour operators, tourism boards, specialty agents and accommodations with a vested interest in the sustainable development of adventure tourism. The ATTA delivers solutions and connections that propel members towards their business goals and the industry toward a responsible and profitable future. Through its regional AdventureConnect events and annual Adventure Travel World Summit trade conference, the ATTA excels in professional learning, networking and partnering services. With expertise in research, education, adventure travel industry news and promotion, members of the ATTA receive competitive opportunities that help establish them as leaders in adventure tourism.