Watertown, Mass. – It started with an ambitious vision of adventure in Africa. On May 3, Thomson Safaris will celebrate the 30th anniversary of making that vision a reality with a gala event and silent auction at the Arsenal Center for the Arts.
In 1981, Thomson Safaris started up in a tiny, closet-sized office in Harvard Square with one employee and a dream of introducing travelers to what was then a virtually unknown country of unbelievable wonders, wildlife, and cultures — Tanzania.
Some 30 years later, the tiny office is a distant memory and the dream has resulted in an innovative and an award-winning travel operator, internationally renowned for its magnificent safari experiences, its first-class service, and its environmental and social responsibility.
Its 20-person sales and marketing team is based in a vibrant office that has become a mainstay of Watertown Square, with its solar panels and impressive collection of East African artwork that often stops passersby in their tracks.
Thomson Safaris' Tanzania-based counterpart employs over 100 staff from its Arusha headquarters, including a team of veteran guides, safari experts, mechanics, and craftspeople.  The impressive campus is located at the gateway to some of the most famous national parks and wildlife reserves in the world.
"We just fell in love with Tanzania and her people," said Thomson Safaris' co-director and co-founder, Judi Wineland. "We knew it would be a life-long passion back then, but we never dreamed that we'd come so far and achieve so much within Tanzanian communities."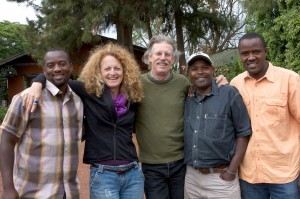 As trailblazers in the adventure travel industry, Judi Wineland and Rick Thomson first met in East Africa, where they explored the potential of Tanzania becoming a major travel destination. The adventure was a hit. So was the partnership. In fact, Wineland and Thomson married in 1986.
Now after three decades of endless adventures, Thomson Safaris will celebrate its grand anniversary on May 3 with hundreds of former travelers, friends, Tanzanians, and honored guests.
Guest speakers at the celebration include prominent Harvard biologist and longtime Thomson Safaris trip leader, Farish Jenkins, who will give a dynamic presentation on the future of African wildlife in an ever-changing world. Thomson Safaris is also flying in four members of the Tanzanian staff on an all-expenses-paid trip to the US, an annual tradition that is always a fun and eye-opening cultural exchange.
The event will also feature a silent auction of exquisite African artwork and stunning wildlife photography.  Proceeds from all sales will be donated to Focus on Tanzanian Communities (FoTZC), a non-profit organization that funds education, women's empowerment, and other sustainable development projects in Tanzania.
Artists include several contemporary Tanzanian masters, award-winning nature photographers, and the beading artisans of Enjipai, a Maasai women's collaborative that is partnered with FoTZC.
"For years, we've been saying how great it would be to get all our friends and travelers in a room together, where everyone could meet and mingle and share their Tanzanian adventure stories.  Now, we've got a great reason to do that, and better yet, you can support the wonderful work of FoTZC by bidding on some really extraordinary artwork.  It's going to be a great night!"
Contributing members are responsible for the accuracy of content contributed to the Member News section of AdventureTravelNews.