TourRadar's Managing Director of North America initiates employee travel, office exchanges and "weekly wins" to help staff avoid the dreaded workplace burnout.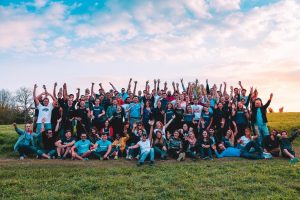 Earlier in 2019, workplace burnout, defined as "chronic workplace stress that has not been successfully managed," was classified as a medical diagnosis by the World Health Organization. According to Harvard Business Review, 1 in 5 employees are at risk of burnout. This growing phenomenon is forcing companies everywhere to take a hard look at their workplace culture. TourRadar, the world's largest online travel agency for multi-day tours, has made helping employees avoid workplace burnout a company-wide priority by making it easier than ever for them to fuel their passion: travel.
As of 2019, TourRadar employees are given annual travel credits of up to $1,800 USD to go touring, allowing them to save their paychecks while taking one of the 40,000 different adventures offered on TourRadar around the world.
"Some companies may discourage their employees from traveling all the time but at TourRadar, we encourage it," says Christian Wolters, Managing Director of North America at TourRadar. "Our employees are passionate about meaningful travel, so we provide them with travel credits to encourage them to open up, try new things and experience different cultures through touring just like our customers do."
There is scientific evidence that shows taking longer vacations has a positive effect on employee well-being and productivity. Wolters says providing travel credits to employees is a way for TourRadar to put its money where its mouth is: because travel—and time away from work—should be valued and celebrated. TourRadar also goes beyond vacation time to help fight corporate burnout. The company offers an international work exchange program so employees can spend time in its Toronto, Vienna or Brisbane offices, experiencing a new culture without taking any time off. TourRadar also puts an emphasis on celebrating wins. Every Friday afternoon, TourRadar's offices across the world gather to enjoy food and drinks and to showcase wins for that week. At these gatherings, employees are encouraged to give their fellow colleagues props for successful projects as well as for trying something new that may not have worked.
"It's so easy for today's workers to get bogged down by endless emails, to-do lists and tasks," Wolters says. "With our Friday 'weekly wins' gatherings, we put the highlight on each others' triumphs that week, giving our teams the chance to talk about something that's going well or to give a shout out to a colleague for doing something extraordinary. It's a great way to build morale and go into the weekend on a high, as well as collaborate with other teams on how to deal with a challenge."
In a recent article exploring workplace burnout, Forbes indicates focusing on open communication to discuss issues and to show appreciation for hard work can make employees feel heard and validated, combating burnout. Also, research from Workplace Strategies for Mental Health shows that workplace culture improves when leaders are able to promote healthy boundaries and encourage breaks from the work environment. Wolters believes this focus on work/life balance helps foster a culture that encourages employees to be open-minded, adventurous and ready to take on any challenge.
TourRadar is currently hiring 20 positions in their Toronto, Vienna, and Brisbane offices. Learn more about these roles and apply here, and discover more about life at TourRadar here.
Contributing members are responsible for the accuracy of content contributed to the Member News section of AdventureTravelNews.