Event highlights: world premiere of Change Dinner filmed locally featuring singer Michelle Branch; premiere of Student Film Project competition winner

Los Angeles, CA. –  Green Living Project™ (GLP), the leading producer and promoter of sustainably-focused films featuring targeted grass-roots global efforts, is hosting its third annual Los Angeles film premiere on Thursday, Dec. 8 at 7 p.m. at Stage 22 at Bellevarado Studios. The event features six short films, including Change Dinner, which was shot in Venice and Culver City, with singer Michelle Branch. The GLP Los Angeles Film Premiere also includes the company's second winner showcase from its Student Film Project. The event is held in partnership with LA Green Drinks and Green Business Networking, two organizations that encourage support of environmental issues.
Since 2007, GLP has produced over 60 short films in 17 countries in Africa, Latin and North America. These films cover important environmental topics, such as wildlife conservation, education, sustainable agriculture and forestry, climate change, community development, renewable energy and sustainable tourism. The films are distributed through targeted channels, including events, television, schools, festivals and social media outlets. GLP's Premieres are popular multi-media events that are open to the public and attract a concerned, motivated audience. Each event demonstrates how individuals, communities and organizations can become directly involved with important local and global sustainability-related initiatives to bring about constructive and positive change.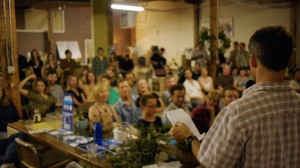 "GLP uses thought-provoking, sustainably-focused short films to educate and inspire," said Rob Holmes, founder and president of GLP. "Filming in Belize, Guatemala, New Mexico, and here in L.A., proved to be educational for our entire crew. We're excited to share what we've captured on film with the Los Angeles community, and hope, collectively, we can bring about inspiration and change."
The films showing at the Los Angeles Film Premiere focus on a variety of topics, ranging from local U.S. food sources, to sustainable tourism initiatives in New Mexico, to sustainable agriculture in Guatemala, and sustainable agroforestry in Belize.
"The film Change Dinner is especially poignant because it was shot in Los Angeles," added Holmes. "Working with Project 30 founder Ellen Gustafson and singer Michelle Branch was incredibly inspiring. We travel the globe in search of change-provoking stories so it's satisfying to witness efforts taking place right here at home."
The Los Angeles Film Premiere also features the winner of the second Student Film Project showcase. The program provides students interested in filmmaking with an experientially-focused educational opportunity and a hands-on project; in five minutes or less, students – from grade six through college – must tell a unique, creative and compelling story about a local or global sustainability-related project. The Student Film Project competition is held three times each year in the spring, summer and fall.
GLP's Los Angeles Film Premiere is presented in partnership with Los Angeles Green Drinks and Green Business Networking. LA Green Drinks aims to connect individuals from the community with fun, informal social networking events.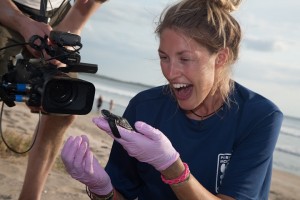 "This is a natural fit for us," said Elizabeth Zampolli, LA Green Drinks organizer. "We continually support like-minded environmentally-focused organizations and networking groups and our method is typically unstructured. We appreciate that GLP takes a more deliberate approach by highlighting sustainability issues in short films to encourage discussion, and adds the drinks."
Green Business Networking helps connect those who understand the importance and opportunity of environmentally friendly commerce.
"GLP showcases the real work being done in sustainability," said Benjamin Shakin, co-founder and director of Green Business Networking. "Partnering with GLP provides our subscribers with an additional networking opportunity, and brings us all closer to the rest of the world."
Event:  GLP Films' Third Annual Los Angeles Film Premiere
Date/Time:  Thursday, Dec. 8, 2011 from 7 to 10 p.m.
Location:  Stage 22 at Bellevarado Studios: 2107 Bellevue Ave.
Cost:  Tickets: $15 advance general admission (purchase online); $20 general admission at the door; $10 LA Green Drinks/Green Business Networking members; $10 students
Network Session:  Special "Education Exchange" networking session for all teachers (6-7 p.m.); RSVP: [email protected]
Key Partners:  Chipotle, LA Conservation Corps, Heal the Bay, Mensa Heating, Mountainsmith, Silverlake Jubilee
Website:  http://www.greenlivingproject.com/losangeles11
Contributing members are responsible for the accuracy of content contributed to the Member News section of AdventureTravelNews.