Launches campaign to help renowned activist Save the Sequoias
Celebrating 45 years since their first trip down the Colorado River through the Grand Canyon back in 1969, O.A.R.S. has coined 2014 "the year of the dory" and will pay tribute to Martin Litton, legendary environmental crusader and founder of Grand Canyon Dories.
Litton, who will do some celebrating of his own this month when he turns 97, is largely credited for his success defending the Grand Canyon from two proposed dams in the 1960's and for fostering a proud tradition of dory boat trips on the great rivers of the American West, which O.A.R.S. proudly maintains today.
Litton first floated the Colorado River in 1955. Humbled by its beauty and grandeur, he fought to save the river from being dammed. And while he would say his role was minor, Martin Litton's place in conservation history is permanently secured.
Later, when the Grand Canyon rafting industry was taking off, Litton decided to open his own commercial guiding company. He launched Grand Canyon Dories in the summer of 1969. However, instead of running rubberized rafts and motor rigs like other companies in the Grand Canyon, Litton chose to run dories—small, wooden and fiberglass boats—as a nod to early river expeditions of the late 1800's. Roughly 17 feet from bow to stern, these hard-hulled, ultra-buoyant boats have six hatches for stowing gear and ample space for four passengers with a central cockpit for a guide manning two powerful oars.
When people laid eyes on a dory, they couldn't help but notice the beauty of these finely crafted river vessels which were hand-painted in assorted color schemes to match the natural hues of river canyons throughout the West. As the devoted environmentalist and dory pioneer grew his fleet of boats to accommodate the growing interest in Grand Canyon dory trips, he also started a ritual.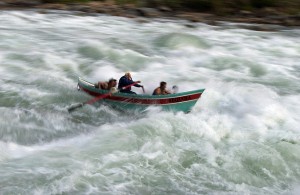 According to Kevin Fedarko's hit book, The Emerald Mile, Litton "inaugurated a tradition of naming every craft after a natural wonder that, in his view, had heedlessly been destroyed by the hand of man—'to remind us of places we've destroyed without any necessity,' he would bark to anyone who inquired, 'so that maybe we'll think twice before we do it again.'"
Litton, a longtime advocate for preserving our most sacred and wondrous natural places, wanted to make a statement. Still today, as O.A.R.S. carries on Litton's legacy of Grand Canyon Dories, and inspires a new generation of dory guides and travelers by running these unique vessels on rivers throughout the West—Idaho's Snake and Salmon Rivers, Utah's San Juan, Green and Yampa Rivers and on the Colorado River through Cataract Canyon, among others—each hand-crafted boat is bestowed with a unique identity to remind us all of the special places we've lost.
It's in the spirit of continuing to raise awareness about the danger of losing some of Mother Nature's best gifts, and in honor of Martin Litton's 97th birthday, that O.A.R.S. has launched a social media campaign to Save the Sequoias.
Save the Sequoias
In 2001 Litton devoted himself to a new cause and helped found Sequoia ForestKeeper, a 501(c)(3) nonprofit organization committed to protecting and restoring the ecosystems of the southern Sierra Nevada—including both Sequoia National Forest and the Giant Sequoia National Monument—through monitoring, enforcement, education, and litigation.
To help ignite support for Sequoia ForestKeeper, O.A.R.S. has committed to donate $1 to the organization (up to $5,000) for every new fan the outfitter receives on Facebook from February 3-12, 2014.
Contributing members are responsible for the accuracy of content contributed to the Member News section of AdventureTravelNews.