When COVID-19 came knocking last March, Rafa Mayer, founder and team leader of Say Hueque, like everyone else, had no idea what this pandemic would bring. However, he did know that if his business was going to survive, he would need buy-in from his employees every step of the way. 
So, Mayer, who started his adventure outfit serving independent-minded travelers in Argentina and Chile over 20 years ago, doubled down on one of his key beliefs: that the key to a successful workplace culture is not to treat employees like "family", but rather, as a community. 
Workplace families, Mayer explains, operate with a set hierarchy, predetermined roles, and encourage loyalty above all else. A community, on the other hand, acknowledges everyone's ever-evolving value—as well as the independent choice they make to be a part of the team each day. It's an approach to leadership Mayer swears by, where emotional intelligence—not to be confused with emotional behaviour—is crucial to sustaining team morale and engagement, regardless of the challenges at play. 
"People were expressing insecurity about their futures, so I knew we needed a plan everyone could get on board with," Mayer says of his approach to team management during one of the most volatile periods in the history of tourism. "I felt that if we could agree on a collective vision, it might give us all the security and sense of purposes we needed—and perhaps even turn a lack of business into an opportunity for internal growth."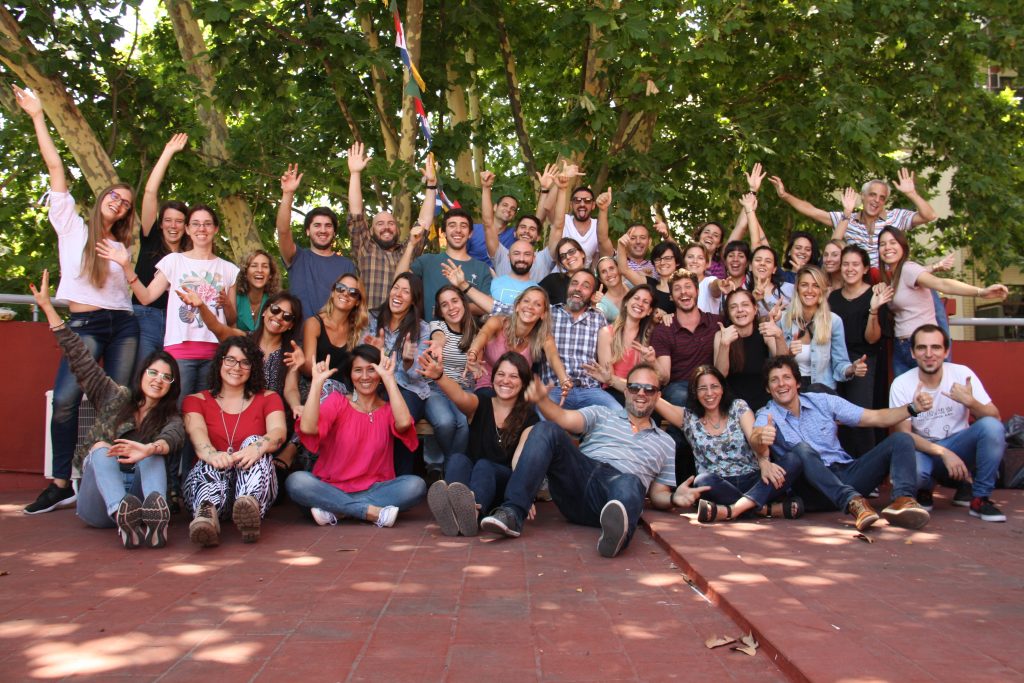 In the months that followed, the Say Hueque team turned their shared love of exploration inward, and applied energies formerly been reserved for client services toward honing their own brand. Amid rising restrictions and closing borders, no one was laid off—indeed, they even went so far as to pre-purchase tours from their partners on the ground, a sort of "rain check" arrangement meant to tide freelance guides over until the demand returns. A long-term investment, Mayer explains, to keep the community intact. 
Closer to home, Say Hueque set its sights on a brighter future. Company-wide team meetings examined the company's public profile and communications, its processes and procedures, its current offerings, and new concerns about health, safety, and booking processes. Committees were formed to implement new changes, and ensure every initiative stayed true to Say Hueque's values—keeping conservation, supporting local economies, and authentic experiences at the forefront. 
"One team was tasked with designing our new family and self-driving collections, another wrote beautiful new itineraries, and a third team researched hotels and restaurants that could support these new trips—and safety measures," Mayer says. "There was a lot of reflection and refocusing—this year gave us time to shake the stones out of our boots, so to speak."
One of those stones took the form of elevated sustainability measures—and realizing long-held goals. Having already eschewed plastics from their operations, Say Hueque became the first Argentine company to go fully carbon neutral on August 1, 2020, partnering with emissions reduction developer South Pole. The company has also partnered with ReforestArg to launch its "Three People for a Tree" rewilding campaign, whereby one tree will be planted for every new follower on Instagram. 
"I'd gotten interested in going carbon neutral after attending ATWS and speaking with colleagues who'd already made the commitment," recalls Mayer, who is the Ambassador of the Travel Trade Association. "The last year gave us the time we needed to do it—and do it right."
Looking back on the past 10 months, Mayer sees more gains than losses, all things considered. Say Hueque was named Argentina's Leading Tour Operator at the World Travel Awards, has a shiny new brand image, and has embraced working remotely—a practice Mayer admits he was hesitant about pre-Covid. The most notable gain, however, is that the Say Hueque community is still going strong—staying united in its commitments to protecting nature, supporting local economies, and creating superb travel experiences. 
"I'm grateful to my team," Mayer reflects. "My biggest fear was that Covid would cause Say Hueque to lose the talented people that make it great, and I'm thankful we could avoid that."
"Of course, we're all happier when we're traveling with our clients," he adds, "but at the moment, we're able to be fulfilled because we know where we're headed."
Voices From The Field – ATTA is providing this space for the benefit of our members for building awareness within our community. The views and opinions expressed in this column are not necessarily ATTA's, nor do we endorse them by their publication.