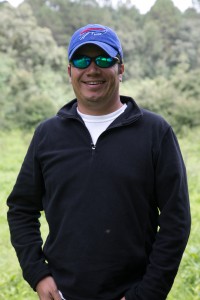 The Muddy Boot is pleased to announce that Rubén Encalada has joined our team as Operations Director.
"We've had our eye on Rubén for some time now" said Antonio del Rosal, co-founder of The Muddy Boot. "This transition comes at an ideal time, when visitation and demand for Mexico has reached a historic high. With Ruben at the helm, we´ll be able to secure our original vision, firmly positioning The Muddy Boot as Mexico´s most respected adventure travel company".
Rubén was born in Mérida, in the state of Yucatán, and grew up in Cancun, in the 80s when this region was still developing. His love for the outdoors began as a child, and his bachelor's degree in Natural Resource Management helped capitalize his outdoor experience. Since 2011 Rubén had the opportunity to begin operations with Maya Amazing Adventures, where he developed a whole new concept of Adventure Travel operation in the Yucatán peninsula. "Adventure Travel is the best way to connect with nature and understand the local culture of the places we visit", Rubén remarked. His wealth of experience, impeccable business ethic and personal sensitivity make him the ideal person to lead The Muddy Boot's operations.
"Mexico should be the most profitable destination for all North American and European buyers", said Rebeca del Rosal co-founder of The Muddy Boot. "Not only because of the beautiful beaches that everybody dreams of, but because of the unimaginable beauty of the unexplored landscapes, the depth of our culture and history, the local gastronomy that is part of our world heritage, and the warmth of the people which is second to none."
Reinforcing this splendid new addition, we are also welcoming Darío López Vives as Trip Leader. Darío is an industry veteran and has over 20 years of experience running expedition trips. From 1994 to 2008 he was the Chief of National and International Expeditions at Rio y Montaña Expediciones, and has since also worked in Costa Rica, Spain, Brazil, Argentina and Perú, collaborating with many different top tour operators in the world. Darío is a certified Whitewater Rafting guide, as well as a trained security expert and wilderness first aid technician.
At The Muddy Boot, we are excited to welcome Rubén and Darío to our team, shortly we will be announcing new itineraries focusing also on Mexico City, which has become a hot-spot for international travelers. Stay tuned…
Contributing members are responsible for the accuracy of content contributed to the Member News section of AdventureTravelNews.