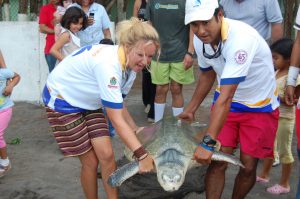 The Muddy Boot and Fundación Yepez A.C. proudly announce their collaboration to support a conservation movement designed to protect five critically endangered species of sea turtles, which arrive to the northern coasts of Veracruz, Mexico.  "We want to provide active support to the tireless and invaluable work the Yepez Foundation has done since 1967.  Don Marcelino Yepes, a local fisherman along with his wife Librada Gerón decided to spend their lives doing research and protecting the sea turtles in danger of extinction.  Their eldest son, Ricardo decided not only to continue with their legacy but strengthen it with conservation projects, environmental education, mangrove reforestation, recycling programs and community work which are and have been paramount for the protection of our natural resources"- said Rebeca Yañez, The Muddy Boot CEO.
For every trip ran throughout Mexico, The Muddy Boot will donate $30 dollars per person to Fundación Yepez.  This partnership will allow the Fundación Yepez team to patrol the 43kms (26.7 miles) of beach every night from the moment the sea turtle season begins in March through December when the last baby turtles are sent off to the sea. These additional funds will also help the continuous work required to protect turtle nests, to look after harmed or sick adult turtles and to continue with the wildlife protection and conservation education programs as well as the mangrove reforestation program. "I have known Peppi Stunkel for many years now, and to see her and Ricardo, her husband work so hard, to struggle year after year to keep this ship afloat and never give up, is inspiring and makes us, as adventure travel professionals, feel compelled to lean in and lend some support to Peppi, Ricardo and their amazing team."- said Antonio del Rosal Founder and General Director for The Muddy Boot.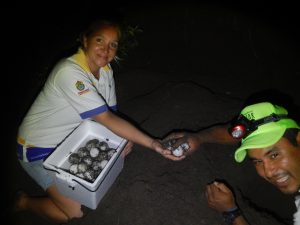 The Muddy Boot will also design a special adventure program in Veracruz that includes Fundación Yepez´s  "Trips with a Cause" hands on experiences during which our guests will join a team of biologist, conservationist and community members for the beach monitoring, nest protection and baby turtle release. In addition, this program will offer our adventurers a good dose of rafting in the legendary Filobobos river, visit to the majestic city of Tajin capital of the ancient Totonaca empire, and time to chill and relax in the beautiful beaches of Costa Esmeralda in cozy boutique hotels. "The Muddy Boot will schedule trips with fixed departures during the sea turtle season and donate 100% of our revenue for each of these trips.  Conservation work is never done, but we are confident that our support will guarantee that Fundación Yepez has the resources they need to continue with the daunting and invaluable work of protecting these noble sea creatures."- said Rebeca
The Muddy Boot will share regular updates with its guests to keep them engaged and informed about how their trips with the company are making a difference…#leaveatrace
"We are very grateful for the immense help and support The Muddy Boot is providing our organization and the conservation of the endangered sea turtles. It is this kind of leadership adventure tourism and the world needs. With this kind of action, Muddy Boot becomes an environmentally responsible travel company that allows travellers to become part of a local conservation effort and leave a positive trace where they visit. We are very excited to share with their clients, the beauty and the natural richness that the Veracruz coast has to offer, working hand in hand to protect it," expressed Peppi Stunkel, Fundación Yepez International Liaison Agent and Partner
The Muddy Boot is a business run by a passionate team of adventure travelers. A lifetime journey, beginning with Boy Scout trips to weekends packed in the family VW Van crisscrossing the country, to heading Mexico's largest adventure travel company has given us a strong understanding of the essence of Mexico's people, culture, and natural beauty.  Our mission is to share this beauty with other world travelers and to LEAVE A TRACE. We intend to leave a positive trace in the communities we visit and support, but also in the hearts and minds of our customers with whom we wish to further our knowledge and understanding of this wonderful land, Mexico.
Contributing members are responsible for the accuracy of content contributed to the Member News section of AdventureTravelNews.