Assistant Editor's Note: The following is a guest post from ATTA member Planeterra; the original was posted on their blog.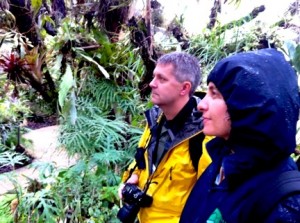 It was a rainy, miserable day in San Cristobal de las Casas. A van was parked in the Central Plaza at 6AM, and a small group of birdwatchers gathered with rain gear, boots and for me an umbrella, though that turned out to be useless.
We were attending the Adventure Travel and Trade Association (ATTA) annual meeting  in Mexico, and Chiapas was the state hosting our event. San Cristobal is the colonial heart of the state, and the gathering point for our day of adventure. Our group was Mexican, Swedish and American, with global experience running tours in natural areas from Botswana to the Monarch butterfly sanctuary near Mexico City. Our local guides were teachers from the area, who were well wonderful resources on all things Chiapas.
The birdwatching was fairly disappointing, the clouds surrounded us making all efforts to stay dry seem pointless,  and my little umbrella amusing! The rain intensified, and the birds laid low. We walked regardless hoping for the best, keeping our binoculars sheltered under our jackets most of the time. After an hour of poor luck, our leader took us to a restaurant suggsting a quick breakfast. Two hours later we were very full of warm food and coffee, but with few birds spotted!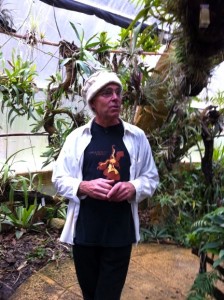 We might have assumed the trip was over, but there was another stop. A small Orchid Park 5 minutes outside of the city. We pulled up and found ourselves immersed in a lovely botanical garden. Other groups were passing through, and the busy place had an environmental education center, outdoor gardens and a greenhouse. An American man, named Cisco with white woolen hat, and very 1960s alternative feel, took charge of us and was quickly leading us to the green house as another group departed.
Cisco had a story. In fact he had a very good story, and his way of telling it was attention grabbing. After a day of mis-hits, I suddenly felt I was in the major leagues. The greenhouse filled to the brim with orchids was his own collection. He had come to photograph the Zapatista rebellion in the 1990s and never left. Like many supporters of that rebellion he loved San Cristobal and decided to make it home.
Cisco clearly has more of a personal story than I learned. But for our small group he was a dramatic spokesperson for the sad state of the environment in Chiapas. Twenty years ago, when he began to explore the small villages of Chiapas he found that farmers were clearing rainforest for cattle with little concern for the beautiful trees, bromeliads, and spectacular orchids that once carpeted this remote state. Impatient to establish farms, they called the rain forest plants "basura" or garbage. Stunned by the beauty of what they were destroying, Cisco simply asked the farmers if he could take their garbage away in his truck and they agreed, thinking him a fool.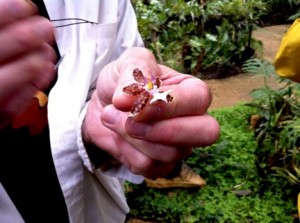 After nearly 20 years, Cisco has the most important orchid collection in Chiapas.  He has joined forces with Pronatura, the national Mexican NGO dedicated to environmental conservation and is raising funds for a new larger greenhouse, and other facilities for environmental education.For our brief visit, he prepared to demonstrate orchid reproduction with mischevous delight, like a magician getting ready for his show. He displayed a simple toothpick, plucked the nearest orchid flower and poked the tooth pick into the pollen producing core of the flower.  After 2 mis-hits, a tiny pollen "packet" sprung loose sitting at the pointed apex of the toothpick.  Asking us to try to gingerly knock it off the toothpick with our fingers, we all touched it quite tentatively, only to find it could not be removed!  According to Cisco, the glue that adheres the orchid pollen to the bee is of extraordinary strength with properties that are still little understood.  He then picked another flower, poked the toothpick into the inner sanctum and presto the pollen packet disappeared to pollinate the new flower!
That simple experience was so wondrous it must affect hundreds of local children and residents every year.  It certainly affected me, and I have probably been on a hundred rain forest tours.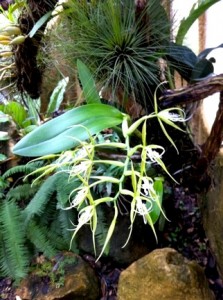 For the Planeterra Foundation, I was quickly moved to find out more.  How could Cisco's work saving orchids in the botanical garden become a means to save the orchids in the forest and the rain forest itself?  How could it help local people to have better livelihoods than most presently endure?  Could G Adventures passengers enjoy his garden and help to support orchid preservation? Could his educational program help local farmers to actually have their own orchid farms? In future, farmers could learn to  preserve their own orchids, rather than throwing them out as garbage, and find ways to farm them and sell them straight from their own properties.  A project the Planeterra Foundation is investigating now.
Contributing members are responsible for the accuracy of content contributed to the Member News section of AdventureTravelNews.