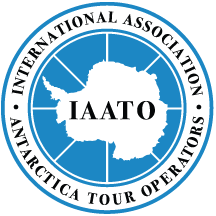 Providence, RI – The International Association of Antarctica Tour Operators (IAATO) today announced the availability of a new PowerPoint presentation designed to help the traveler understand how climate change is affecting the Antarctic environment.
While the primary users will be IAATO Members' shipboard lecturers showing the presentation to Antarctica-bound passengers, it is also available to "Antarctic Ambassadors" – anyone interested in spreading the word on the connection between human-induced global carbon dioxide levels and the state of Antarctica's climate. The slide presentation, which can be downloaded from the IAATO website, details the complexities of the changing environment:
The extraordinary finding that the ozone hole has shielded parts of the continent from much of the effects of global warming,
A rapid warming of the Antarctic Peninsula and Southern Ocean,
Rapid glacial ice loss in some areas of Antarctica, and an increase in sea ice around the eastern side of the continent, and
Changes in the abundance and distribution to Antarctica's flora and fauna resulting from changing feeding and breeding habits.
The presentation has been reviewed by the Scientific Committee on Antarctic Research (SCAR) and incorporates the latest research on the subject.
IAATO Administrative Director Steve Wellmeier said the new presentation was championed by the IAATO Climate Change Working Group, and complements the association's Climate Change in Antarctica – Understanding the Facts pamphlet that is available in four languages to those interested in the continental ecosystem. "Our Members recognize that modern climate change is a significant threat to the Antarctic environment, and have established a working group to promote awareness and understanding of this vital issue. Another goal of the group is to develop advice for IAATO Members to be climate-change friendly in their global operations."
"Having no native population, Antarctica needs "Ambassadors" who will advocate for this unique environment in a global context. We encourage our Members' travelers – and anyone interested in the conservation of the continent – to take part and follow developments in the news and in their governments regarding the science and management of climate change," added Wellmeier.
IAATO extends a thank you to IAATO Member Cheesemans' Ecology Safaris for partially underwriting the cost of drafting and production of the presentation, and to all of the Member-operators who intend to use it on board.
The new Climate Change presentation is in English and can be downloaded at no cost from the IAATO website Guidelines and Resources page in either PPT or PDF formats. The pamphlet Climate Change – Understanding the Facts can also be downloaded in English, French, German or Spanish from the same page.
Contributing members are responsible for the accuracy of content contributed to the Member News section of AdventureTravelNews.