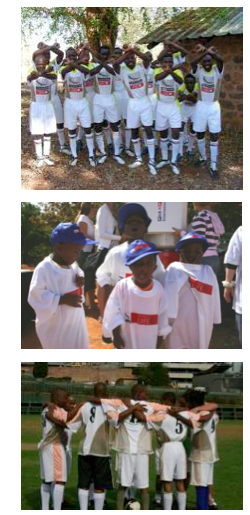 "The Goal is Life" is a one of a kind wellness programme developed by &Beyond to inspire staff and local communities to have a goal to work towards, and in doing so, to promote physical, mental and spiritual wellbeing. Working closely with World Wide Sports and both African and international football legends, staff take part in tournaments and workshops at their safari camps and lodges across the continent and are encouraged to make healthy living choices.
There are 21 &Beyond soccer teams from seven African countries taking part in "The Goal is Life" challenge, with the overall winner receiving the ultimate honour of winning tickets to the World Cup in South Africa in 2010 to see their heroes in action.
Football is a global phenomenon and language, loved by millions of people. &Beyond has tapped into the fierce passion that both their staff and communities share for the game, encouraging them to realise their abilities and talents.
To win a game of football, you have to score a goal, and to win the game of life, you have to have a goal. &Beyond believes that if more people are encouraged to have a goal worth living for then there will undoubtedly be a significant impact on the overall morale and health of the communities surrounding their lodges and camps.
Excitement for "The Goal is Life" challenge has spread from &Beyond's safari camps and lodges into the neighbouring communities, with an additional 42 teams taking part in the programme. There are seven dedicated football legends (Mark Fish, Pollen Ndlanya, Neil Tovey, Joe Kandenge, Shaun Bartlett, Gabrielle Machado and Andre Arendse) who attend the competitions and "Goal is Life" challenges, inspiring the players and local communities with their skills and passion for the game.
&Beyond also has a "Sing for Life" wellness programme which celebrates the passion in modern African music, as well as the timeless traditions of African drumming, singing and dancing. Both of these programmes form part of &Beyond's Positive Health initiative which was launched in 2003 to train &Beyond staff to counsel and care for people with life-threatening diseases, including HIV/Aids. The impact on &Beyond's staff and neighbouring communities has been immense, with a significant growth of both health awareness and a passion for life.
Contributing members are responsible for the accuracy of content contributed to the Member News section of AdventureTravelNews.