The Explorer's Passage (TEP), a leading social impact and historical immersion adventure travel outfitter has announced the launch of its Gladiator Trek (GT) Expeditions. The focus of the GT Expeditions will be to utilize adventure as a means to help facilitate transformation through adversity and community in nature.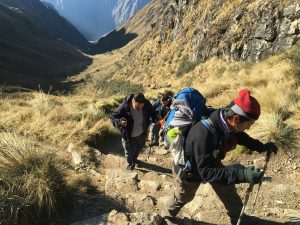 The GT Expeditions will incorporate three important elements: Immersion into Nature, Being Part of a Community, and the Rebuilding of Self Esteem through Overcoming Adversity. The unique combination of being in nature, as part of a group in a shared experience, and participating in a challenging adventure which builds confidence, creates an extraordinary opportunity for growth that can have both mental and physical benefits for participants.
"I have personally witnessed countless transformations of friends, clients, and co-workers on adventures in nature," says Jeff Bonaldi, Founder of The Explorer's Passage, a tour guide company that emphasizes social impact. "I have experienced the extraordinary effect adventure has had on my life and I want to provide the opportunity for people to experience the same level of transformation.
Adventures in nature can be a powerful way to help one on their journey to a more positive sense of self, and ultimately, to a state of empowerment. Each adventure will be structured to have pre and post consultations with the GT team as well as extensive group engagement during the program.
Departure dates to begin in Summer 2020.
For more details on a Gladiator Trek adventure, please visit HERE.
Contributing members are responsible for the accuracy of content contributed to the Member News section of AdventureTravelNews.