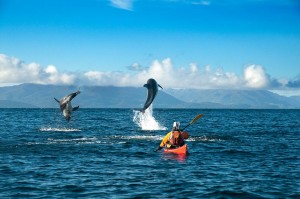 Seattle –  AdventureWeek, a new, intensive familiarization (FAM) concept offered by the Adventure Travel Trade Association (ATTA) kicks off in September with AdventureWeek Chile, becoming the inaugural adventure tourism destination matchmaking project in the nascent program.
For each AdventureWeek, the ATTA partners with a destination to feature the best adventure travel products offered. During each tailored nine-day itinerary FAM participants, screened by the ATTA and that include outbound tour operators, specialized travel agents and international travel media, meet with local operators and ground suppliers in a dedicated marketplace in each destination.
Shannon Stowell, President of the ATTA, a member association dedicated to the sustainable development and professionalism of adventure travel worldwide, said, "The strength of AdventureWeek is that it is designed by adventurers for adventurer sellers. Destinations believing in the power of adventure travel as a cultivator of economic stimulus stand to gain much by investing in AdventureWeek. Each destination will get unmatched opportunities to expose their breadth of product to and partner with, learn from and conduct business with a highly qualified group of buyers and media."
During the adventures, participants experience physical, cultural and nature-based activities, with a heavy emphasis on rural areas and local providers. A core component of AdventureWeek is a chance to meet with a group of local operators in each destination in order to create relationships, foster an understanding of the market and begin partnership building. During and post AdventureWeek, an ATTA Storytelling team will document adventures and showcase them through social media as well as share the experiences with 650 adventure travel professionals during the ATTA's annual Adventure Travel World Summit.
Ranked #1 Emerging Destination in the 2011 Adventure Travel Development Index, Chile's stable economy, wealth of adventure activities and dedication to nature-based travel make it well suited for an AdventureWeek program. AdventureWeek Chile will highlight three regions in the southern portion of the country: Los Lagos (Lakes), Magallanes and Aysen.
From September 1-10, 2013, 20 AdventureWeek participants will experience Chile's natural and active offerings. In Los Lagos activities will include kayaking in the coastal Andes, mountain biking the cone of Osorno Volcano at Vicente Perez Rosalez and riding a jetboat on Petrohue River. In Magallanes, surrounded by the iconic Torres del Paine National Park, FAM participants will kayak the Magellan Strait and sail Patagonia waters, while in the Aysen region kayaking the General Carrera Lake and trekking the Northern ice fields will highlight.
Qualified international outbound operators and specialized travel agents will be invited on AdventureWeek Chile in addition to select media and a storytelling team. More information and a participant requirements and application can be found at www.adventuretravel.biz/connect/adventureweek-chile
Suggested tweet:  #AdventureWeek kicks off ATTA's new #adventuretravel FAM product with #chile and @chiletravel
About Adventure Travel Trade Association
Established in 1990, the Adventure Travel Trade Association (ATTA) serves nearly 900 members in 80 countries worldwide. Members predominantly include tour operators, tourism boards, specialty agents and accommodations with a vested interest in the sustainable development of adventure tourism. The ATTA delivers solutions and connections that propel members towards their business goals and the industry toward a responsible and profitable future. Through its regional AdventureConnect events and annual Adventure Travel World Summit trade conference, the ATTA excels in professional learning, networking and partnering services. With expertise in research, education, adventure travel industry news and promotion, members of the ATTA receive competitive opportunities that help establish them as leaders in adventure tourism. (www.adventuretravel.biz)
For more information:
Adventure.Travel – consumer portal to member tours