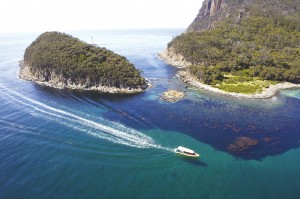 Where can you climb into bed, hovering over Australia's deepest freshwater lake; or cruise with seals on an island, off an island, off an island?  Where does one walk a coastline dressed in hourglass-fine sand or admire it from above in eco-chic lodging; and where can you get a true blue Aussie sheep shearing and barbie combo? These are all Tasmanian originals. And that's why our locals, bar the sheep, have hit center stage at the Qantas Australian Tourism Awards.
Why do these experiences shine? Because they're not for the masses or able to be reproduced. They are central to place – appealing to travelers seeking what is original. They create memories by design and are why Travel + Leisure Magazine named Tasmania as the best island in Australia, New Zealand and the South Pacific, and fourth among the world's top ten islands.
On the national stage, these authentic Tasmanian experiences are shoulder to shoulder with the best in the country. In fact, Tasmania has humbly accepted gold across seven categories at the Qantas Australian Tourism Awards. Not only that, but Tasmania collected nine silver, three bronze and Bruny Island Cruises was inducted into the Hall of Fame. What's more, Tassie picked up a gold and silver award in every category for accommodation. So come on down and you can be assured a great place to rest your head.
John Fitzgerald, Tourism Tasmania's CEO said "Tasmania has had a fantastic year for tourism, and our popularity continues to grow with more people holidaying on the island than ever before. Last year we won a record number of Australian tourism awards, and I am so excited that we could back that up with another outstanding performance at this year's awards. It reconfirms the quality of Tasmania's tourism and hospitality businesses and the amazing holiday experiences they provide for our visitors.  It's yet another reason why everyone should get down here and discover for themselves why Tasmania was ranked last year as the best island in the Australia, New Zealand and South Pacific region, and the 4th best in the world. "
Interest in Tasmania continues to grow, our latest US visitor arrivals are up 38% on the previous 12 months and Canada is up 44%.
Contributing members are responsible for the accuracy of content contributed to the Member News section of AdventureTravelNews.