Expanded Network Represents Nine Destinations from Five Continents – All Committed to Destination Stewardship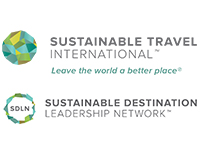 Washington, DC – The Sustainable Destination Leadership Network (SDLN), the first global collaboration of its kind for decision-makers and practitioners from tourism authorities, has welcomed four new partner destinations since it's launch event last November at The World Travel Market. Los Lagos (Chile), Mara Naboisho Conservancy (Kenya), Turismo Lanzarote (Spain), and the Namibia Ministry of Environment and Tourism are now a part of this pioneering network.
With the addition of these global leaders, SDLN's Destination partners now represent five continents, with a range of destinations including protected areas, municipalities, and countries. The growing and diverse makeup of the network is indicative of the increasing interest and potential of well-managed tourism that protects the environment, culture and heritage, drives economic growth, and creates good jobs. It is also better for business.
"Lanzarote has demonstrated a commitment to sustainable destination management in numerous ways, and the Sustainable Destination Leadership Network is the natural next step. We look forward to sharing experiences and best practice with other destinations, and are enthusiastic about working together to create a more sustainable future," explained Héctor Fernández, Managing Director, Turismo Lanzarote.
The four new partners are joining SDLN's founding partner destinations: Innovation Norway, Mt. Huangshan Administrative Committee (China), St. Kitts & Nevis, Travel Oregon (USA), and Travel Portland (USA). The SDLN is also supported by an accomplished group of collaborating partners including the Global Sustainable Tourism Council, Mercury CSC, Development Counselors International, and the International Coalition of Tourism Partners.
"Mara Naboisho Conservancy is pleased to be the first wildlife conservancy in the SDLN," said Lars Lindkvist, Chair of the Mara Naboisho Conservancy. "We are a young destination that is proud to be recognized as leaders, and happy to represent this important tourism model on the global stage. We are consistently striving for improvement, and look forward to bringing new ideas and learnings home to Kenya."
Convened by leading non-profit organization Sustainable Travel International, SDLN brings together forward-thinking tourism destinations to facilitate peer learning and information exchange. Participants will also work together to tackle salient challenges of the future and to embed sustainability into their policies, strategies, day-to-day management, and marketing.